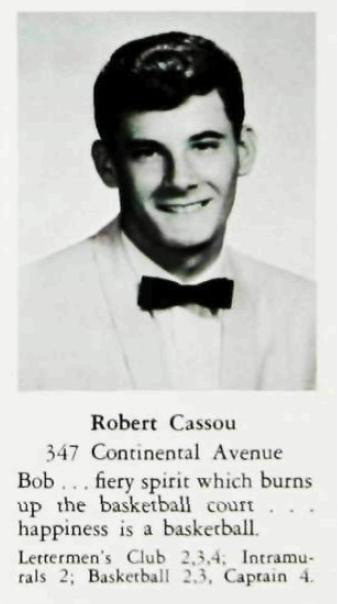 CASSOU Robert J., age 65, passed peacefully, surrounded by his family on September 10th, in Castle Rock, CO.

Bob was born on June 18th, 1948 to Felica Locasto Cassou, and Leopold Jean Cassou in New York City. He is survived by his wife Barbara, three adoring children Christine, Alex and Nicole, and many loving relatives and friends.
Bob lived most his life in the greater metropolitan New York area. Raised in Paramus, NJ he attended Paramus High School, and was recruited on a full ride basketball scholarship by Fordham University, Bronx, NY, graduating in 1970.

Bob had a 28 year career in the prestige cosmetic industry where he held several national sales and general management positions. He started at Chanel in 1972, and climbed the corporate ladder there, before leaving to join Parfums Stern as V. P of Sales in the mid 80's. Bob spent the last 12 years of his career at L'Oreal. While there, he served as Sr. VP of Sales and then General Manager of their European Fragrance Division, and at the pinnacle of his career became Deputy General Manager and Sr. V.P. of Sales for Lancôme.

In 2003, he and his family moved to Colorado to pursue a new business opportunity, and a new quality of life.

Diagnosed with stage four lung cancer in March 2008, Bob fought valiantly for five and a half years to spend more time with his children, extended family and friends. Just like his basketball and professional careers, Bob took his disease head on, and used his talents to increase lung cancer awareness. He made a commercial with his champion, Dr. D. Ross Camidge, for the University of Colorado Hospital, and participated in several other fund raising events for lung cancer awareness. His ultimate goal, once diagnosed, was to attend his youngest daughter, Nicole's, high school graduation, which he accomplished in May of this year.

Bob was known for strong, lasting relationships, was a fierce competitor, and challenged himself and those around him to always do their best. His professional teams loved working for him because he was a great teacher and mentor, and took great pride in their success. He was passionate, committed to making a difference, loved to have fun and win! The most significant of Bob's accomplishments was how deeply he loved Barbara, Christine, Alex and Nicole.

A rosary viewing will be held at St. Francis of Assisi at 2746 Fifth Street, Castle Rock, CO, on Sunday September 15th, from 7-9 PM with a funeral mass the following morning at 11 AM. There will also be a memorial mass held at Fordham University chapel in the near future, details to be confirmed.

There will also be a memorial mass held at Fordham University's Rose Hill campus chapel on October 5th at 9:30 AM followed by a reception.
Memorial donations are requested in lieu of flowers to: University of Colorado Hospital Foundation's 'Lung Cancer Colorado Fund' in Bob's name.
Mail to: Erin Henninger, UCH Foundation, Mail Stop F485, 12401 East 17th Avenue, Aurora CO, 80045. Information or online donations about this charity can be found at
http://www.uch.edu/conditions/cancer/lung/support-education/lcc-fund/ -