If you are involved in the planning of any year's reunion, please advise as to any details and contact info. This website can help you get the word out and emails can target any year's graduates.
Contact: ParamusHighSchoolAlumni@gmail.com
---
Paramus High School
Class of 1972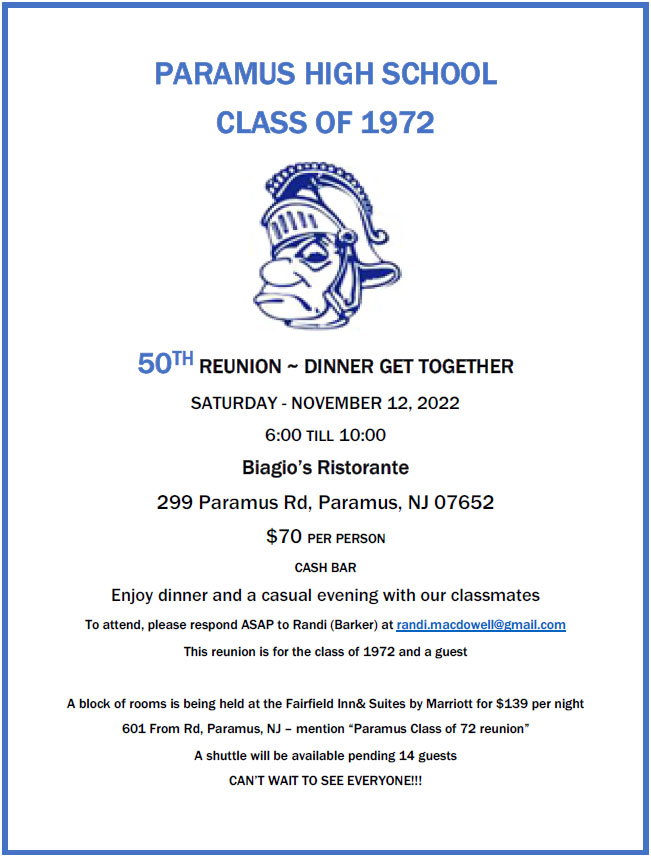 ---
Paramus High School
Class of 1970
50th Reunion
Dinner at Hilton Woodcliff Lake
Saturday - May 6, 2023
Weekend plans May 5 to May 7, 2023
(details to come)
---
Paramus High School
Class of 1978
45th Reunion is November 18, 2023
Biagio's Ristorante, Paramus. 7-11. More info will follow.
---
Paramus High School
Class of 1960
The PHS Class of 1960's 60th Reunion planned for May 21, 2022 has been cancelled. However, "we are going to publish the Journal and are asking everyone to write something and send it to Lucille, Co-chair."
Contact:
Lucille Yokell, CHME
lyokell@hotmail.com
By snail mail at:
136 E 56 Street, 5L
New York, NY 10022
Or call Lucille at 917.981.5730 and she will write what you would like to include.
---
Paramus High School
Class of 1971
50th Reunion
Cancelled!
---
If Reunion Committees would like contact info listed here, or you have other Reunion info you would like posted here, please contact me.