If you are involved in the planning of any year's reunion, please advise as to any details and contact info. This website can help you get the word out and emails can target any year's graduates.
Contact: ParamusHighSchoolAlumni@gmail.com
Reunions in date of event order.
---
Class of 1960
For details and reservations please contact Lucille Yokell 917-981-5730 or
lyokell@hotmail.com
.
---
East Brook Jr. High School
Freshman Baseball Team
(PHS Class of 1976)
We are getting together to celebrate the 50 year anniversary of that event. We will be meeting together as a team on the East Brook baseball field at 5 PM on Saturday, June 10. While we won't being having a game, it's just going to be fun to be on that same field together again.
We will all take pictures together and then we will head off to Biagio's for dinner. Please pass the word along to anyone you think may want to attend. 16 confirmations have been received, including Mr. Cervino and Mr. Peroni.
You can call or text Lou Lanzalotto at 610-357–4715 if you have any questions.
---
Cornerstone Reunion
Classes of 1960, 1961, 1962, 1963, 1964
Attend the Fourth and Final Cornerstone Reunion. Please join us to remember and celebrate, "The Way We Were." Tables will be reserved for each class, if you choose to sit together.
Saturday, September 9, 2023 ~ 3:00 - 8:00 pm
VFW Post 3484
44 Market Street
Saddle Brook, NJ 07663
(next to the Saddle Brook Diner - ramp and an elevator access
$50.00 Per Person, Dinner Buffet, Non- alcoholic Beverages, Cash Bar, D.J.
Please make checks payable to PHS Cornerstone Reunion and write your year of graduation in the memo section. Mail checks by June 1, 2023 to:
Marty Gulko
45 Kohring Circle S.
Harrington Park, New Jersey 07640
Thank you. We look forward to seeing you in September!
The Class of 1963 Reunion Committee
For questions or comments email: carolynmcilveen@gmail.com
---
Class of 1971
September 22 ~ 24, 2023 - Belated 50th Weekend Reunion
Friday Night ~ 6 - 9 pm
Bum Rogers Crab House & Tavern, South Seaside Park
Meet & Greet night. This is a casual pay your own way, eat & drink gathering.
Saturday - Gather with friends for breakfast. Walk to boardwalk or enjoy the beach, etc.
Saturday Night Reunion ~ 6 - 10 pm
Hemingways - Seaside Heights
Live DJ, passed appetizers, buffet dinner & dessert. $82pp
(Beverages not included)
Diane Edwards Rosetto, Organizer
Checks due by August 1. No paying at door.Diane Rosetto
3469 E. Lisbon Ave.
Toms River, NJ 08753
(Make checks payable to Diane Rosetto and put "PHS Reunion 1971" in memo with name(s))
Starlight Motel
Call Michelle to book at 732-330-8448 (not online), limited rooms.
---
Class of 1973
50th Reunion – Friday, September 29, 2023
6pm - 10pm $116 per person
View, print, and/or download the PDF form
View, print, and/or download the JPG form
Full Payment due by: 8/20/23 — No payment at the door.
Biagio's Ristorante
299 Paramus Rd, Paramus, NJ 07652
---
Class of 1978
45th Reunion is November 18, 2023
Biagio's Ristorante, Paramus. 7-11. More info will follow.
Follow on Instagram: Paramushs1978
Email: 1978paramus@gmail.com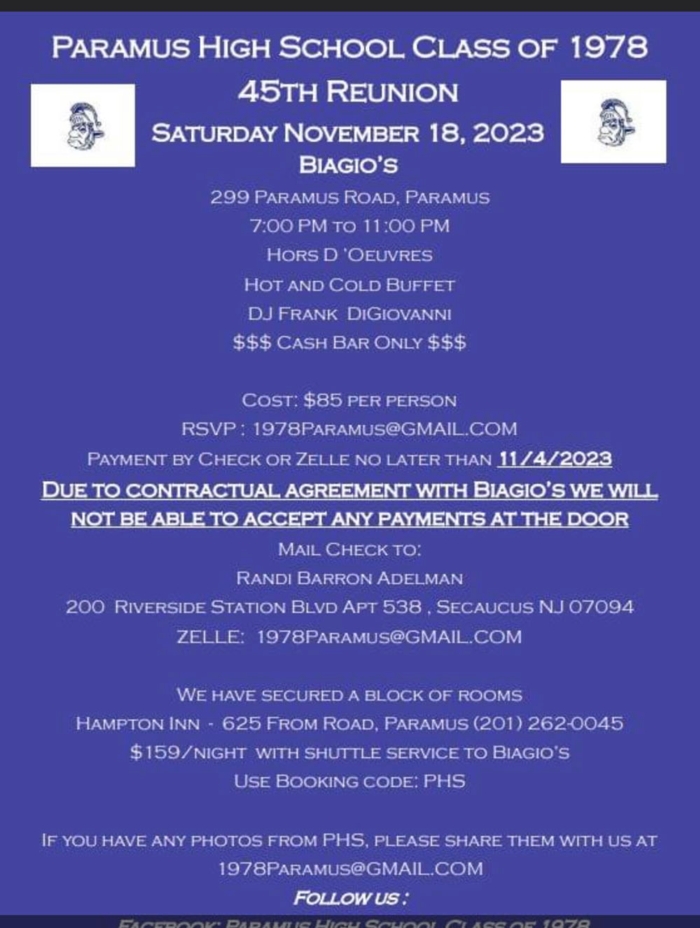 ---
Class of 1977
47th Reunion – May 17, 2024
7:00PM - 11:00PM
Biagio's Terrace
299 Paramus Rd, Paramus, NJ 07652
(This was supposed to be the 45th, but delayed due to Covid)
Hot and cold passed appetizers, hot and cold buffet.
Dessert, coffee, tea.
Open Bar-Top Shelf-Three bartenders-All night
Professional DJ
Classmate Book
Targeted price per person $50 TBD
Will have a block of rooms for travelers.
If you know of a PHS 1977 Graduate please have them contact Bob Pappalardo:
207-274-3984 | asmityke27@outlook.com
---
Class of 1960
The Class of 1960's 60th Reunion planned for May 21, 2022 has been cancelled. However, "we are going to publish the Journal and are asking everyone to write something and send it to Lucille, Co-chair."
Contact: Lucille Yokell, CHME
lyokell@hotmail.com
By snail mail at:
136 E 56 Street, 5L
New York, NY 10022
Or call Lucille at 917.981.5730 and she will write what you would like to include.
---
If Reunion Committees would like contact info listed here, or you have other Reunion info you would like posted here, please contact me.