Paramus High School
Home of the Spartans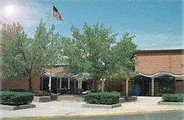 In Memory
John R Compagnone - Class of 1962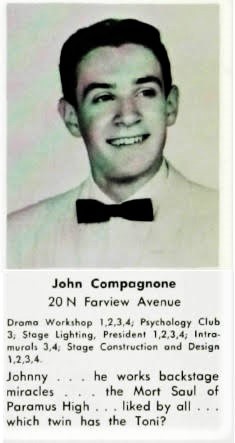 HOPEWELL John R. Comp, age 76, died Friday, Jan. 17, 2020, at Hackensack University Medical Center after fighting a fierce battle with leukemia for the past year.
Mr. Comp was born in Hackensack, NJ, and has been a lifelong resident of the state. He grew up in Paramus, raised his children in Edison, and has resided in Hopewell for the past 23 years. Wherever he lived, Mr. Comp indulged his lifelong passion for endless home improvement of the highest craftsmanship.
In his professional life, Mr. Comp enjoyed a successful career in the realm of commercial real estate and development. Early on, he was responsible for leasing space in the Empire State Building. He later moved on to shopping mall management and was the manager of the Menlo Park Mall in Edison. His career grew to include becoming the creative force behind many effective retail concepts as well as being a vice-president of leasing for a company with 76 regional malls in the U.S. and Canada.
More recently, semi-retired, he enjoyed leasing commercial spaces throughout the Central New Jersey area and assisting businesses with acquiring the best space in which to thrive. He was preceded in death by his parents, Benedetto and Frances Compagnone, and older brother, Benedict Compagnone.
Mr. Comp is survived by his devoted wife of 44 years, Joann Comp; three sons, Christopher Lechnou (Michelle), Daniel Comp Rakofsky (Shannon), and David M. Comp Rakofsky (Jessica); daughter, Nikki Cifelli (Antonio); his seven adoring grandchildren, Briana, Gabrielle, Eli, Laney, Nicholas, Lila, and Benjamin, as well as twin brother, Richard Compagnone (Elizabeth), brother, William Compagnone (Sandra), and sister, Theresa Halliday, along with many nieces and nephews.