Dr. Daniel R. Corey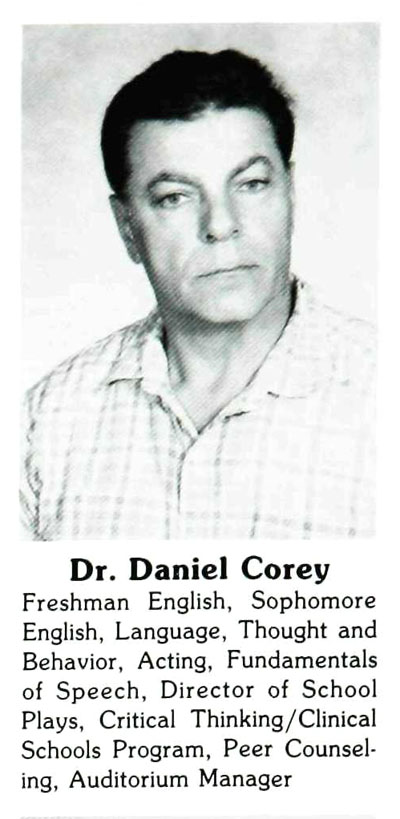 COREY, Daniel R., age 86 of Glen Rock, formerly of Fair Lawn, passed away peacefully on Tuesday, April 19, 2022. He was born in Hempstead, Long Island to Samuel and Angelina (D'Amelio) Corey. A lifelong student and teacher, Daniel received his PhD in 1989 and taught at Paramus High School, Montclair State University, Cornell University and Bergen Community College before retiring in 2013. Daniel was a proud Life Member of the International Listening Association. Daniel served his country and community in the U.S. Army as a combat engineer while also impacting many lives as a Boy Scout leader, sports coach, poetry writer, and Paramus Volunteer Ambulance Corp member. Daniel excelled athletically, playing football at the college and semi-pro levels and also earning his black belt in Tae Kwon Do. He enjoyed nature at the Glen Rock duck pond and time at the shore in Manahawkin, NJ where he was a member of the Italian American Club. He was a parishioner of St. Catharine's RC Church in Glen Rock.
Daniel is survived by his devoted wife Arlene (Misterowicz) Corey of Glen Rock. They cherished 45 years of a loving and loyal marriage together. Loving father to Daniel A. Corey and his wife Heather also of Glen Rock. Devoted grandfather to Daniel, Alex and Scott Corey. He is survived by his brother Ralph Corey of Honesdale, PA and many nieces and nephews. He was predeceased by his brothers Samuel and Raymond Corey and his sister Anna Pilch.
Family and friends may visit on Friday, April 22, 2022, from 2-4 PM and 6-8 PM at the Vander Plaat Colonial Home, 13-31 Saddle River Road, Fair Lawn. Funeral mass to be held Saturday, April 23 at 10 AM at St. Catharine's RC Church, 905 South Maple Avenue, Glen Rock, NJ. Interment to follow at George Washington Memorial Park, Paramus.
In lieu of flowers, the family requests donations be made in Daniel's memory to:
The Glen Rock Volunteer Ambulance Corps
700 South Maple Avenue
Glen Rock, NJ 07452.