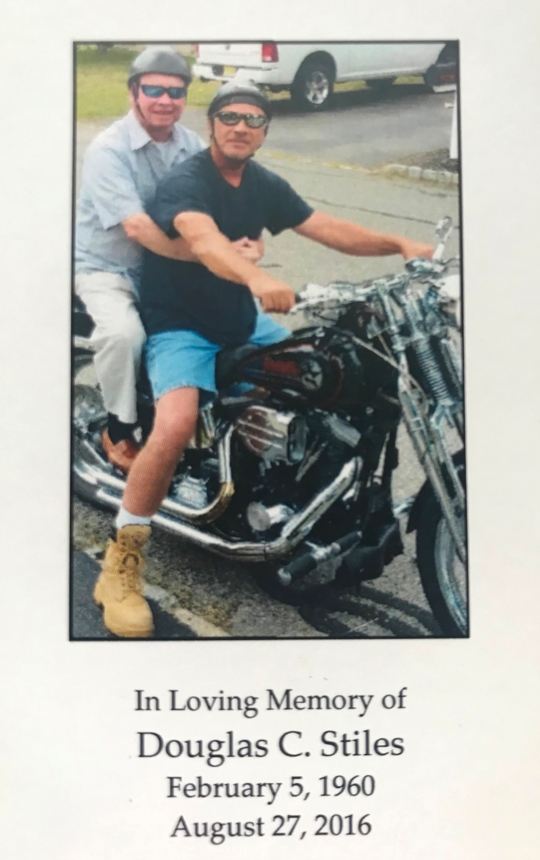 STILES
Douglas C., 56, of Verona, N.J., passed away on August 27, 2016. A celebration of his life will be on Thursday, September 1, 2016 from 4 - 8 p.m. at Shook's Cedar Grove Funeral Home, 486 Pompton Ave., Cedar Grove, N.J. Family and Friends will be invited to speak beginning at 7 p.m. Cremation will be private. Memories and condolences may be shared at shookscedargrove.com.
Born in Teaneck, N.J., Doug lived in Paramus before moving to Essex County in 1994, residing in Verona for the past 12 years. He was the President /Owner of Rebel, LLC., a transportation company based in Port Newark, N.J. Doug was a true entrepreneur with a great work ethic, who was extremely dedicated to his work, business, and family.
Predeceased by his brother Gary Stiles, Doug is survived by his wife, Regina M. Carter; parents, James H. and Virginia Stiles; daughter, Genevieve Stiles; daughters, Jacqueline and Diana Stiles, their mother, Pam Stiles; grandchildren, Desiree Alexis and Christopher Douglas; siblings, Jan Stiles, Lisa Calligan (Tim), Michael Stiles (Teresa); and nieces and nephew.