Ruby Bishar
February 11, 1932 - November 20, 2006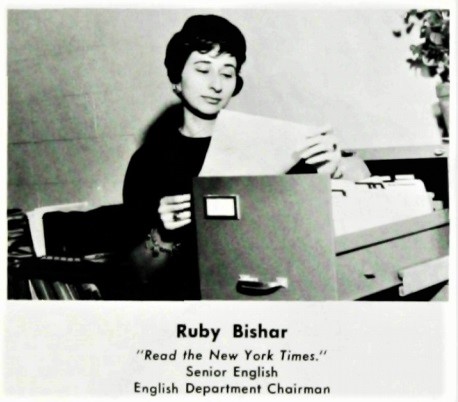 ---
BISHAR - Ruby of Cliffside Park, NJ formerly of Paramus passed away on November 20, 2006. She is the daughter of the late Lucy and Thomas Bishar. Beloved sister and sister-in-law of Jaqueline and Fred Pieroni. She is also survived by numerous loving cousins.
She was raised in Cliffside Park, NJ. She is a graduate of Montclair State University. She was a forty-year career educator and dedicated her life to the students of Paramus High School where she was the first English Department Chairperson who created the English Department Curriculum for the new high school.
She was a devout Patron of the arts and introduced her students to the world of ballet by presenting ballet programs at the high school featuring the world renowned New York City Ballet dancer Edward Villella.
Her numerous other affiliations were membership in the New Jersey Education Association, where she also served as a Negotiations Consultant, the Education Association of Paramus where she had been a past President and negotiations Chairperson, member of the National Education Association, and Bergen County Education Associations, New York City Ballet Guild where she served as chairperson of a number of committees, and the New Jersey Literary Hall of Fame where she was currently serving as chairperson. She was also a faithful member of the Assyrian Orthodox Church of Virgin Mary in Paramus, NJ.