Christine Chimenti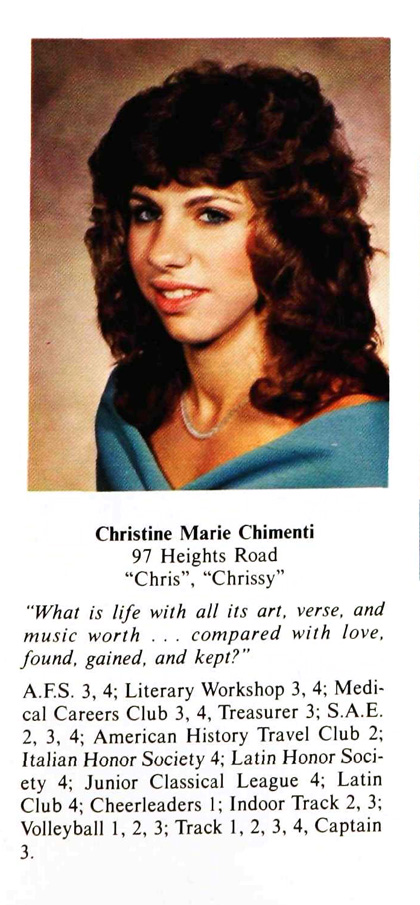 Christine Chimenti, age 50, died peacefully on Wednesday, January 25, 2017, surrounded by her loving family. Christine was born in New York, NY and grew up in Paramus, NJ.
She graduated from Paramus High School in 1984, and received a BS in Nursing from Seton Hall University in 1988. She also received a juris doctorate from The City University of NY Law School in 1997 and was a member of the NJ Bar Association. Christine and her husband of 15 years, Salvatore Vona, lived in Hoboken before moving to Wyckoff, NJ in 2012 to raise their two children. Christine enjoyed life to the fullest and loved to travel with her family. Her greatest joy, however, was found in being a mom to her beautiful daughters, Gabriella and Olivia, and wife to her loving and devoted husband, Salvatore. In addition to her husband and children, Christine is survived by her mother, Marie Chimenti, of Paramus, NJ, her brother, George Chimenti of Little Falls, NJ and her brother, Scott Chimenti, and his wife Laurie, of Charlestown, MA, as well as many loving nieces, nephews and cousins. Christine was a parishioner at St. Elizabeth R.C. Church, Wyckoff. She is predeceased by her father, George Chimenti.
We will always love our beautiful wife, mom, daughter, sister, and aunt and will cherish all of the unforgettable memories. We will never forget her beautiful smile and positive outlook on life, all that we learned from her and will be forever grateful for her perseverance and endless love. Donations may be made in Christine's name to Holy Name Medical Center Cancer Center, 718 Teaneck, Teaneck NJ 07666, (201) 541-5900.
Published by The Record/Herald News on Jan. 27, 2017.