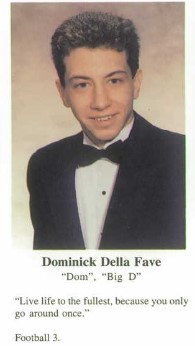 DELLA FAVE Dominick, Jr., 39, of Paramus, passed away on Monday, February 23, 2015 surrounded by his loving family. Dominick was a 1993 graduate of Paramus High School and graduated with Honors from Seton Hall University in 1998. He went on to work for the Passaic School system before returning to Paramus to work for the Paramus Board of Education as a Lead ABA Therapist. His proudest accomplishment in life was working with children with special needs and seeing their achievements. He was a parishioner of Our Lady of the Visitation R.C. Church in Paramus.
Cherished son of Dominick, Sr. and Linda Della Fave of Paramus. Loving brother of Lisa Della Fave of Fair Lawn, Carl Della Fave of Paramus, Jamie Lynn Karlewicz and her husband Eric of Chestnut Ridge, NY and Amanda Della Fave of Paramus. Treasured grandson of Shirley Kelly and the late Howard and Rose Della Fave and the late Nicholas. Dear nephew of Betty Ann Snow, Nicholas Della Fave and his wife Kira, Gail Kelly, Kathy Duffy, Cheryl Belanger and her husband Donald and Doreen Di Donato and her husband Joe. Interment George Washington Memorial Park, Paramus.
As an expression of sympathy, memorial contributions in Dominick's memory may be made to Autism Speaks, 1060 State Road, 2nd Floor, Princeton, NJ 08540.