Rebecca Diane Dunn (and Joshua DeVries)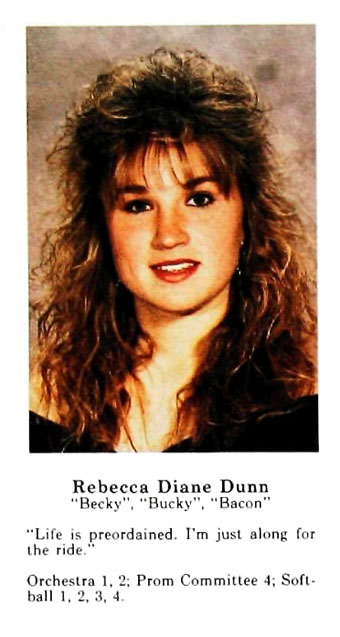 December 8, 2021
SALEM - Rebecca Diane DeVries (née Dunn), 47, and her husband, Joshua Paul DeVries, 42, passed away together on Wednesday, December 8, 2021.
Rebecca - After being lovingly adopted in New Jersey by the late Lawrence and Patricia Dunn, "Becky" grew up in Paramus. She first visited Salem for Halloween in 1993, and continued to visit every year for close to a decade. She knew that one day she would move there permanently and work as an artist. She went on to do just that, with Josh. She worked in mixed media for over 20 years and was a graduate of Montclair State University, where she earned a Bachelor of Fine Arts with concentrations in photography, jewelry and art history. Rebecca spent many weekends searching the Massachusetts shore for shipwrecked pieces to incorporate into her amazing art and jewelry. She was inspired by her Nana's cozy, antique-filled New Jersey home. She felt it was the most magical place in the world. Rebecca served terms as Vice President of the Salem Arts Association, and was recently named Chamber of Commerce Business Woman of the Year. She was a generous friend, and often sent surprise packages of her art or items from The Scarlet Letter Press print shop.
Joshua - Born in Texas to Jimer and the late Jack DeVries, Josh spent his formative years in the Netherlands. He was raised in Loon op Zand, a municipality of North Brabant, and spoke fluent Dutch. As a young man he lived in San Diego, where he attended Cuyamaca College with a concentration in art. After moving to Massachusetts in 2003 with Rebecca, he learned the printing trade, which would lead to the beginnings of The Scarlet Letter Press. His work was displayed at the annual Terror Fantasies Art Show, and in 2012 he was honored to win "Outstanding Work" in Sculpture at the Marblehead Festival of the Arts. Josh was a proud family man, enjoyed playing games with his Oonah, listening to his favorite bands, especially Tool, and when visiting California would always first stop for Mexican food.
The Couple - The two met while working alongside each other at tradeshows for the gift industry. They started their life together in San Diego, but moved cross-country in 2003 to continue their dream of being a team of artists. Rebecca and Josh were married on October 1, 2005, at the Old Lyceum in Salem. Their dear friend and Salem witch, the late Shawn Poirer, officiated the marriage. First and foremost, they were proud, amazing parents to Oonah. But their love for art was another mainstay. They were a husband-wife collaborative team, both inspired by a notion of antique macabre, and they enjoyed searching for vintage parts to use in their mixed-media artwork. Creating with found objects was their passion, and they hoped their art collection would inspire viewers to look beyond the ordinary objects used in their pieces to realize that even the lifeless still retains life. As a family, they loved visiting Disney World and planning weekend getaways. Rebecca and Josh DeVries were the well-respected owners of The Scarlet Letter Press, a printing company in Salem and home to many friendships. They were loved by everyone, always encouraged fellow artists, cared much for their Salem community, and made a lasting impression that will be missed forever.
Rebecca and Josh are survived by daughter, Oonah, a radiant, creative soul, who will undoubtedly pour love into her own art, and her pets, dog Lilo and cat Ghost. Rebecca also leaves behind a sister, Christina (Chrissy) and husband, Ron Hayunga; brother, Michael (Mike) Dunn and his fiancé, Deirdre Young. The large Dunn and Fencsak families will miss her. Joshua will be missed by his mother, Jimer DeVries; sister, Shaney and husband, James Watters; sister-in-law Natascha and niece Jamie and nephew Mason. Brother, Matt, predeceased him.