Benn William Meistrich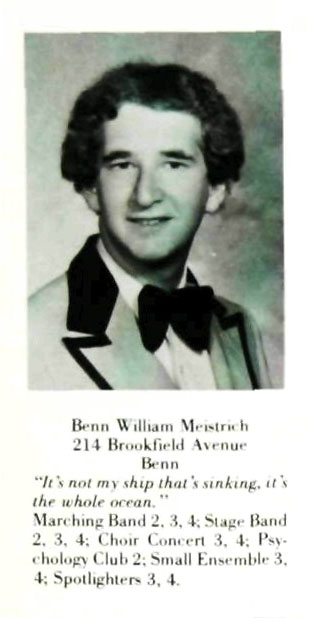 Benn William Meistrich, 61, of Lincroft, NJ and (get this!) Singer Island, FL. Survived by his beloved husband of over 25 years, Shaw Condiotte, brother Matthew and sister-in-law Tracey, aunts, cousins and nephews among other living relatives, sister-in-law Samantha Silkin, many presumably heartbroken friends, Godchildren, and some very grateful home improvement companies.
Benn was the son of the late Claire (Fassler) and Philip Meistrich, from whom he inherited his wit, heart, lousy genes and deep disdain for people who take themselves seriously. He was born in the Bronx, and as soon as he could walk, managed to push his stroller along the Cross Bronx Expressway and over the G.W.B. to New Jersey, where he grew up in Paramus, spending much of his time devising ways to get out of gym.
One day, he found a small amount of paint in a color he liked, painted his bedroom until it ran out, thereby inventing the accent wall at age 11. He attended Syracuse University, majoring in architecture before switching to business, pledged Beta Theta Pi fraternity, discovered irony and Fluffernutters, and learned how to drive in real snow.
After graduating, he spent time in the corporate world before escaping to start his own commercial sign business. Eventually setting his sights higher, he entered Seton Hall Law School, where he graduated with awards in appellate advocacy and note passing. He survived his own general practice for several years before becoming a staff attorney with the New Jersey Division of Civil Rights.
Benn enjoyed writing and designing, but unfortunately was stuck being a lawyer. He loved traveling, word games, laughing, being there, cars, old telephones and cookies. He hated mushrooms, scenes, artifice and shoes. He was a longtime board member of Planned Parenthood, founder and member of Jersey Pride, Inc., and served on the boards of more religious, political, social and advocacy organizations than he could remember - some of which he'd just soon forget. And now he can.
Benn rebelled at unfairness since childhood, and worked tirelessly for social justice and equality. He considered it a communal victory when someone overcame their homophobia after meeting him. He always tried to leave the place a little better than he found it, and was often described as a very good egg. Which is ironic, as he couldn't stand eggs.
In his memory, please donate to Planned Parenthood of Northern, Central and Southern New Jersey, vote for progressive Democrats, watch a Billy Wilder film, help someone anonymously, and don't post anything about him on Facebook.