Victor Manougian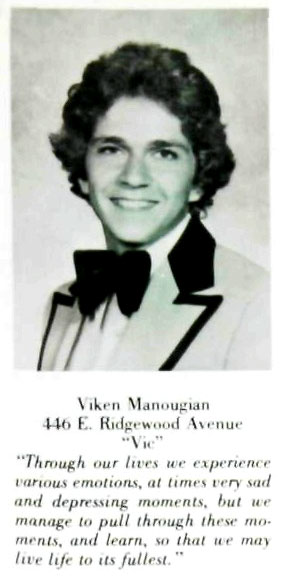 October 4, 1960 ~ December 22, 2019 (age 59)
On Saturday, December 22nd, 2019, Victor (Viken) Manougian, an active resident of York, ME, passed away at the age of 59. Born on October 4th, 1960 in Beirut, Lebanon, he was predeceased by his sister, Ani Haiganoush Manougian, his father, Nerses Manougian, and his mother, Marie Manougian, nee Bezirganian. He is survived by his two sons: Peter Manougian and his wife, Kristina, and CPT Michael Manougian and his wife, Katie. He is also survived by his brother, Dr. Ara Manougian and his wife, Dr. Toni Manougian, sister Sosy Maral Shishmanian, nee Manougian, three nieces, three nephews, and many cousins.
Victor graduated from Paramus High School (NJ) in 1978, received his B.S. in Economics and Finance, magna cum laude from Fairleigh Dickinson University, and his J.D. from New England School of Law. He had an over 27 year legal career spanning the states of Maine, Massachusetts, and New Hampshire, in areas including real estate, municipal law, bankruptcy, and foreclosure.
Victor was committed to serving the various communities he was a part of, including but not limited to as Assistant Town Counsel to Chelmsford, MA, and tireless commitment as a Trustee, Chair of the Board of Trustees, and Councilmember at First Armenian Church in Belmont, MA, where he also provided legal counsel, took initiative in maintaining church building and grounds, and was always ready to lend a helping hand whenever called upon.
Victor was a loving father who was very proud of his sons. They especially enjoyed various activities together, including skiing, attending Army football games, visiting amusement parks, train museums, classic car shows, antiquing, and whatever adventure lay ahead.
He will be remembered by family, friends, co-workers, and neighbors for his warm and fun-loving personality, infectious smile, and sense of humor.
"He could talk to a tree if it could talk back to him".
A celebration of life was be held on Thursday, December 26th at First Armenian Church, 380 Concord Ave, Belmont, MA 02478.
In lieu of flowers, donations can be made in his name to Officers' Christian Fellowship, First Armenian Church, Belmont, MA, or Armenian Presbyterian Church, Paramus, NJ.