Kenneth Maxwell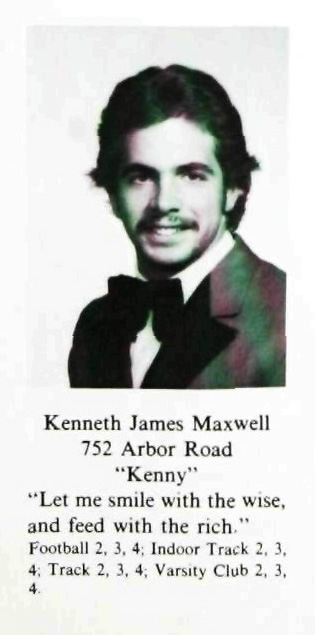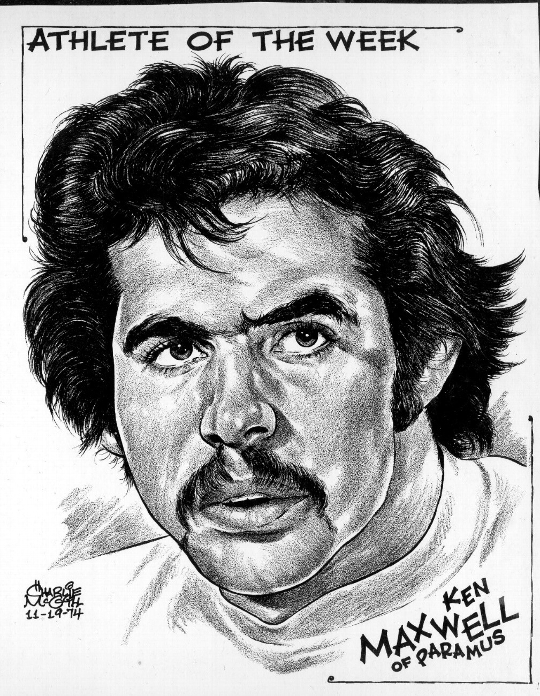 ---
A legend in Paramus' football rich hstory, Kenny was inducted into the Paramus High School Athletic Hall of Fame in 2019.
---
The Kenny Maxwell Era
Written by Jerry Pervinich - Contributing Editor - The Record
PARAMUS — Friendships forged between high school football players, along with the shared memories of gridiron glory, live long after their playing days are over. And in the special case of two Paramus teammates extend even beyond the grave.
Ken Maxwell was a speedy and powerful running back on the Spartans' 1974 team. Steve Kovach was the team captain and offensive pulling guard who paved the way for him.
"We grew up together," Kovach said. "We met in kindergarten and were classmates all through elementary and high school."
Growing up, they played on the same team in the Paramus Recreational Football League. When they got to high school, both made the varsity team and moved up to starting roles in their junior year.
Maxwell's season, however, was cut short by a leg injury suffered midway through the campaign.
He returned in his senior year, eager to make up for the lost time. The Spartans dropped close games to Teaneck and Garfield at the start of the 1974 season. Maxwell got off to a good start rushing for over 100 yards in both games but blamed himself for the losses.
He felt that he could make a greater contribution to the team effort if he got the opportunity to run with the ball more often. He was a record-setting sprinter on the Paramus track team.
Maxwell went to then coach John DeGasperis, the winningest football coach in Paramus history, and asked to be allowed to put his running speed to greater advantage.
The coach granted his wish, making some offensive adjustments that shifted the Spartans' thrust from power plays to more quick pitches and reverses that sprung Maxwell for outside runs. The move vastly improved the team's performance, and Paramus won four of its next six games.
In the next to last game of the season, the Spartans faced Wayne Valley, and Maxwell went on a rampage. He gained 210 yards on 26 carries, giving him 1,080 for the season and making him the first Paramus runner to go over the 1,000-yard mark in a single season. He scored four touchdowns and added a two-point conversion in the 33-0 win. His performance earned him The Record's Athlete of the Week recognition, the first Paramus football player so honored.
"Going into that game, Ken and I both knew he had a shot at the 1,000 yards," Kovach recalled. "I told him I would help him get it if I had to block every Wayne Valley player on the field."
The following week, Paramus met undefeated Bergenfield in the season-ending annual Thanksgiving Day game. It was a memorable defensive struggle, with the Bears shutting down Maxwell and the Spartans' defense holding Bergenfield in check.
With Paramus trailing, 6-0, Maxwell returned the second-half kickoff 80 yards and then ran for a touchdown. Mike Brown kicked the extra point to give Paramus a 7-6 upset win. "The game was absolutely superb and the most exciting I ever coached," coach DeGasperis said.
Maxwell added to his rushing total and finished the season with a school record 1,101 yards and 13 touchdowns.
Amazingly, his record stood for 36 years before being shattered this year by quarterback John Robertson, who rushed for 2,023 yards on 214 carries and scored 28 touchdowns. He rewrote the Paramus record book in a number of other categories.
Maxwell died in 1990 at the age of 33.
A 40-year history of Paramus football, compiled and published in 1998, made no mention of Maxwell's record and erroneously credited another player as the rushing record holder. The error was spotted by Kovach and brought to the writer's attention.
"I regarded it as an insult to Ken, and since he was not alive to defend himself, I felt it was my duty to set the record straight," Kovach said.
He also notified Maxwell's sister, Diane Wagner, a Paramus resident and PHS graduate. She, too, was surprised by the omission oversight. Diane accompanied her father to all of Ken's games, and her dad kept a scrapbook containing newspaper clippings that chronicled every game. "That book brings back such wonderful memories," she said.
Over the years, the once respected and proud Paramus football program sunk, including 22 years without a winning season. Ken Maxwell and his rushing record were all but forgotten, as no player posed a serious threat to breaking his record.
That changed in the past decade, as each season, there has been a running back who appeared headed for a new record which evoked the memory of Ken Maxwell. The contenders included Rocco Rinaldi (905 yards), Jon Rizzitello (994 yards), Mike Mordaga (1,043 yards) and, of course, Robertson (2,023).
Kovach, ever the loyal teammate, kept tabs on the threatening assaults, checking the individual stats after every game.
"I know it wasn't realistic, but I really did not want to see anyone break Ken's record," Kovach said. "John Robertson is a great player and deserves the record. I'm proud to have met him, but I never thought a quarterback would be the one to break Ken's record."
Ken's sister did not want to see the record broken either. "But I knew it was inevitable, and I am happy that Robertson, a talented and dedicated player, was the one that got to do it," she said. Diane attends the Paramus games and has watched Robertson and the others make their run at her brother's record.
Both Kovach and Wagner got to meet and congratulate Robertson prior to the Ridgewood game on Thanksgiving Day.
Warren "Pops" Tashian was there, too. The 95-year-old loyal fan has been attending Paramus football games since the inception of the program in 1959 and got to see both Maxwell and Robertson play.
"They are two different type runners," Pops said. "Maxwell was a punishing, powerful runner with great speed who would just knock players over. Robertson has more finesse, is elusive with speed and has the whole deal."
Maxwell was been inducted into the Paramus High School Athletic Hall of Fame Class in 2019.
---
Comments from Lou Lanzalotto Jr.
I saw your note about Kenny and decided to write you about his senior season in 1974. We began 0-2 and then coach De Gasperis moved Tom Grbelja to QB. . .we went to Hackensack for game 3 and the Bergen Record said we would lose 26-0. On the first play of the game we tossed the ball to Kenny as he ran the sweep incredibly well. This time he stopped and threw the ball down the field for a huge gain and we went on to won 23-0.
He would gain over 1,000 yards in just 9 games.
In the final game at Bergenfield, in front of a packed house on Thanksgiving Day, we were down 6-0 at the half and they were 9-0. We had a huge goal line stand right before the half led by our senior defensively line of Tom Carl, Bill Lavosky, Frank Gormely, and Evan Sotnick.
Coach said at half time he wanted to return the kick in the middle of the field because the field was frozen and they had a huge red bear on the 50 yard line and it was slick. Kenny returned the kick 80 yards and scored a few plays later to tie it. Mike Brown kicked the extra point to make us win 7-6
Bergenfield won the state championship the following week, and went 10-1 for the year. We won 5 of our final 7 to go 5-4 on the year
Kenny was also a great sprinter on the track team for my dad. He still holds the sprint medley school record along with Rich Rothschild.
I was fortunate to coach high school football in Tom's River and Freehold for 15 years. I never coached or saw a back as big, strong, or fast as Kenny.
He was a great team mate. . .very humble