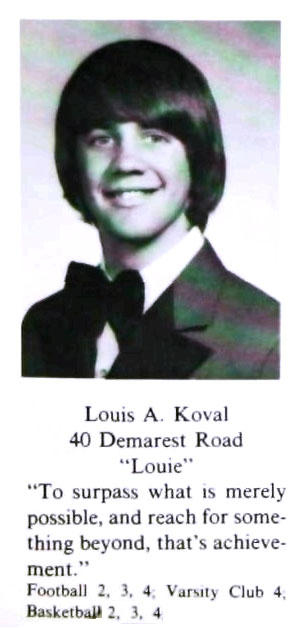 Louis, 64, of Ridgefield Park, formerly of Paramus, passed away on Sunday, August 7, 2022. Louis was a Sr. Manager/Supervisor for Reichman & Lazaroff where he worked as a CPA, for 21 years.
He attended Paramus High School where he was a varsity football quarterback. He was an avid sports fan and had a deep love for both the NY Giants and NY Mets. He graduated with a B.A. from Rutgers in 1979. He was proud of his accomplishments and delighted that he passed his CPA exam. He had an extraordinarily strong work ethic. Louis loved spending time at the Jersey shore.
Devoted father of Bethany Koval. Loving friend/former spouse of Debra Koval. Treasured brother of Judy Loretto, Camille Kutreyan, Charlie Koval, Tommy Koval, Lisa Kollman, and Sandy Koval. Dear uncle of Kira Loretto, Krissa Hoermann, Jessika Kutreyan,and Karly Kollman. Great uncle of Kyrie.
Memorial visitation Saturday, August 13, 2022, from 2:00 pm - 5:00 pm at the Vander Plaat Memorial Home, 113 South Farview Avenue, Paramus, NJ.
As an expression of sympathy, memorial contributions in Louis's memory may be made to
Lymphoma Research Foundations Wall Street Plaza
88 Pine Street, Suite 2400
New York, NY 10005
www.lymphoma.org