Elaine Kopp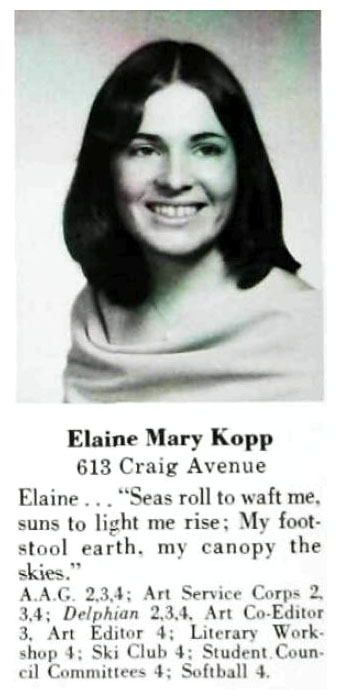 KOPP, Elaine Mary, of East Rutherford formerly of Lodi and Paramus, passed away on Sunday, January 15, 2017. A registered nurse, Elaine earned her BSN from Felician University. Specializing in neuroscience nursing, she enjoyed a 30-year career providing compassionate patient care and was a dedicated member and officer of several nursing organizations, including the American Association of Neuroscience Nurses and Sigma Theta Tau International Honor Society of Nursing. She served on the editorial board of the Journal of Neuroscience Nursing, as a content reviewer of the AANN Core Curriculum for Neuroscience Nursing, and as editor of her STTI chapter newsletter.
A student of global nursing, she traveled widely to learn about nursing practices in countries around the world. Elaine also had a life-long appreciation of art and found self-expression through drawing, painting, and photography throughout her life.
Predeceased by her parents, Lillian and Howard Kopp of Paramus, and brothers Brian and Rory, she will be deeply missed and always loved by dear friends and by her family: Sompong Fukiatisuthi of East Rutherford, Mary Beth and Don Elliott of Franklin Lakes, Damian and Mary Kopp of Washington Twp., John and Karen Kopp of Wayne, Thomas and Judy Kopp of Fair Lawn, Betsy Foote of Durham, NC, Kerry and Gail Kopp of Eldorado Hills, CA, and Norel and Joe Blundo of Westwood, as well as her 10 nieces and nephews.