Gary R. Louizides
1955 - 2021
Ridgewood - June 29, 1955-May 17, 2020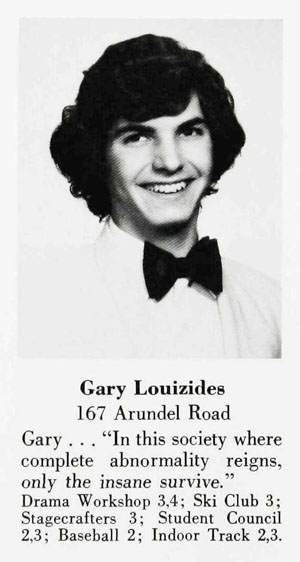 In deep grief born of great love, we have marked one year since the passing of Gary Louizides, our cherished and devoted husband and father. For we three, Gary was the ideal manifestation of love, kindness, generosity, humor, creativity, intelligence, logic, reason, observation, precision, intuition, candor, adventure, action, and fun. As a husband, a one-true-love, and for each of us, a best friend and most trusted adviser, he was our firm place to lean and our soft place to land.
Gary's warm brown eyes missed nothing and said everything. His brilliant mind, always open and thinking critically, cataloged encyclopedic knowledge. His huge heart held us in a loyal, protective embrace. His beautiful capable hands were instruments of healing, nurturing, nourishing, drumming, baseball-playing, kayaking, lobstering, sand-castling, airplane-flying, Scrabbling, crossword- and jigsaw-puzzling, writing, crafting, designing, gesticulating, building, fixing, mending, and MacGyvering.
With a career of distinction in progress as a surgical first assistant at Hackensack University Medical Center, he shared his expertise as a faculty instructor of third-year surgical clerkship medical students and surgical skills lab coordinator and instructor. His healthcare career began at Holy Name Medical Center - the hospital where he was born - as a member of the operating room staff and a registered nurse first assistant. Prior to healthcare, he held management positions with Hyatt Hotels and worked in varied roles at hotels in New York, NY, Bethesda, MD, and Nashville, TN. In Nashville, he returned to work he had enjoyed years earlier by joining the stagehand/stagecraft crew at The Nashville Network, reminiscent of his roots in theatre working for Playhouse on the Mall in Paramus, NJ, "Evita" and "Tribute" on Broadway and shows in other venues. As a professional carpenter, he created impressive pieces that endure.
Stimulated, fulfilled, and never sweating the small stuff, Gary brought his all to everything he did. He was highly skilled at surgery, innately talented in carpentry, and a gifted athlete. He loved baseball, played since childhood - most recently "hardball" in Sunday leagues - and rooted for the Boston Red Sox. He was a dazzling drummer who could also play the spoons and sang for fun with gusto. An intuitive chef, he whipped up daily feasts, thoughtfully planned or spontaneously inspired by ingredients found in the kitchen cabinet and "the icebox". An animal lover, he took wonderful care of our pets and was an excellent horseback rider. He enjoyed sunning and swimming and diving right into the "bracing cold" ocean, especially along the coast of Maine.
Gary beautified our home and lives by being there and being himself, making ordinary days extraordinary. Loving son of Virginia and Lou who have passed, Gary is remembered and adored by us, his wife Elizabeth and daughters Emilie and Julia, his son-in-law Justin, sister Wendy, brother Bob, sister-in-law Sue, their children and grandchildren, many more extended family members, and dear friends. We, along with Gary's colleagues, students, and patients, are part of his legacy of a life well lived.
A memorial award in Gary's honor was established by his colleagues in the Department of Surgery at Hackensack University Medical Center to be presented annually to a junior surgical resident who demonstrates exemplary technical skill and attention to detail. A memorial scholarship in Gary's honor was established by his family at the Holy Name Medical Center Sister Claire Tynan School of Nursing to be presented annually to a student who pursues nursing as a career transition or new endeavor later in life.
A formal memorial service is tentatively planned for May of 2022. For now, we invite you to light a candle in Gary's memory, as we often do. If you were to also say a kind word, share a smile or a laugh, or find a way to make someone feel truly seen and appreciated for exactly who they are, that, too, would be a way to honor Gary as he lived.