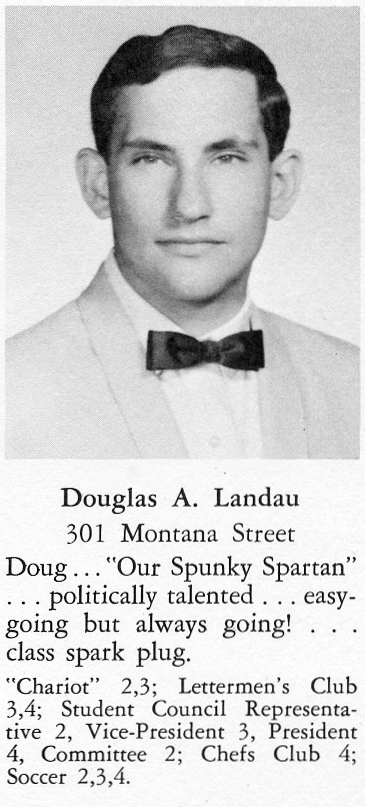 Douglas A Landau, 67, of Bonita Springs FL, formerly of Paramus NJ passed away suddenly on Thursday, October 8 , 2015.
He attended Ramapo College and NYU. He was a vice-president of World Relief and during that time worked with Southeast Asian refugees. He was named a Carnegie Fellow along with other people and organizations working on the resettlement of Southeast Asian refuges after the Vietnam and Cambodian wars.
At Idaho State University he was awarded a Doctorate of Arts in Political Science. He worked for for the Bergen County Prosecutor as a criminal investigator and as town administrator for several towns and burroughs in New Jersey. Mostly he loved teaching. He taught political science and public administration for many colleges in New Jersey, New York and Florida. Most recently he taught at International College in Naples FL., where he was assistant Professor of Public Administration. He also taught political science at Florida Southwestern State College in Ft Meyers, Fl.
Doug is survived by his brother David W Landau of Paramus as well as several cousins; Donna Hittel of New Milford, NJ: Diane Landau-Flatter of Fish kill, NY ; Dennis Landau of Paterson, NJ; Albert C Harding of Stockholm NJ; James C Harding of Bloomingdale NJ; Tim C Bruinsma of Manhattan Beach CA; Lynn E Kirk of Valencia CA; Dayle A Dodds of Redmond WA, and their families.
He was predeceased by his father, David W Landau in 1963 and his mother Hilda Bruinsma Landau in May of 2015.
A committal of his ashes will be held at Laurel Grove Cemetery in Totowa, NJ at 10:00 am on Saturday, November 7, 2015.
As an Expression of Sympathy, memorial contributions can be made to Helps Outreach Inc., 2025 J and C Blvd., Naples, FL 34109.