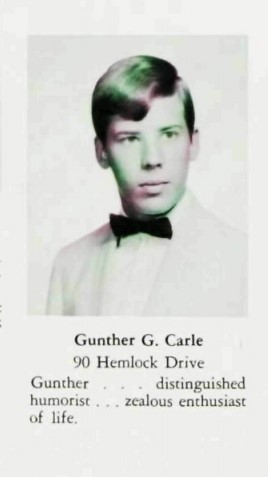 Gunther Gary Carle, of Stanton, CA, and Daytona Beach, Florida, died on January 16, 2017 outside El Paso, Texas, of a heart attack.
He was born on April 14, 1952, in Hackensack, New Jersey, to Edith and Gustav Carle, of Teaneck and Paramus, New Jersey.
Gary was a bright and gifted student who won academic awards in his early years, graduating from Paramus High School and later attending a nearby community college. He went to Beautician's school and earned a barber and hair styling license. He had a great sense of humor, was fun, witty, kind, and enjoyed traveling throughout the US and to Europe.
In his early '20s, Gary developed schizophrenia, a horrific genetic brain disorder for which there is no known cure. Schizophrenia caused havoc in his day-to-day life as he frequently lived through nightmares from which he couldn't escape. Given available medications had severe side effects, Gary did not take them and coped the best he could.
His survivors include a sister, Joanne Carle-Accornero, and brother-in-law, Barry Accornero, who live in Huntington Beach, CA, as well as numerous cousins in Stockholm, Sweden. He was predeceased in death by his parents.
Goodbye, sweet little brother, I tried to help you the best I could.
I hope you finally feel safe and are at peace….
Donations in Gary's name may be made to the Brain & Behavior Research Foundation, 90 Park Avenue, 16th Floor, New York, NY 10016 in support of research to find better treatments and a cure for schizophrenia.
****Posted by Joanne Carle-Accornero, PHS '62, Gunther's sister