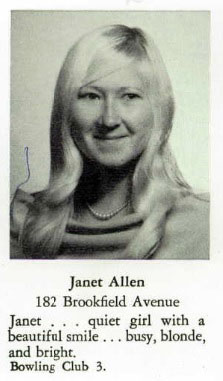 Janet Lee Kirchhof (née Allen)
Brick, New Jersey
January 31, 1952 - May 25, 2021
Janet Lee Kirchhof, 69, of Howell passed away on Tuesday, May 25, 2021 at her home surrounded by her family after a courageous battle with cancer. Janet was a homemaker and a loving wife, mother, sister and grandmother. She was a communicant of St. Martha's RC Church in Point Pleasant. She was a licensed amateur radio operator with a call sign of KA2VTN. Janet was an avid Gardner who enjoyed planting flowers. She enjoyed long walks on the boardwalk and searching for sea glass on the beach and evening rides on our Harley by the beach. Anyone that knows Janet knew that her pride was in her home and her family and her beloved dog Snoopie. She was a selfless caring woman who always had a smile on her face and always ready to lend a hand to anyone in need.
Born in Hackensack, she lived in Paramus before moving to the Ramtown section of Howell 25 years ago.
Janet was predeceased by her parents, John F. and Georgianna Allen; and a nephew, Cody Thompson. Surviving are her husband of 44 years, Reinhard Peter Kirchhof; sons, Matthew James Kirchhof and his wife, Azahria of Wall and Richard Allen Kirchhof of Jamesburg; sister, Nancy Sue Thompson-Lurch and her husband, Donald of Barnegat; grandchildren, Amelia and Richard; brother-in-law, Christopher Kirchhof and his wife, Bridget of Howell; and niece and nephew, Michael and Courtney.
Visiting will be on Wednesday, June 2 from 5-9pm at the O'Brien Funeral Home, 505 Burnt Tavern Road, Brick. A Funeral Mass will be offered on Thursday, June 3 at 11am at St. Martha's RC Church in Point Pleasant. Entombment will follow at St. Anne's Cemetery, Wall. Donations may be made in her name to Embrace Kids Foundation, 121 Somerset Street New Brunswick NJ 08901.
The funeral mass will be streamed live at this link : https://youtu.be/H0CJlihydTQ