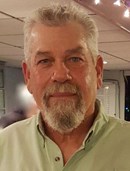 Walter "Steve" Vreeland, 68, of Oakland, passed away on Sunday, June 10, 2018. Born in Hackensack, he lived in Oakland since 1978.
Steve served in the US Navy during Vietnam then was a Staff Sergeant with the NJ Army National Guard was a past commander of the Franklin Lakes VFW Post 5702 and is a current member of the Glen Rock VFW Post 850. He was a Lieutenant with the Bergen County Prosecutor's Office in Hackensack until he retired in 2003.
After his retirement he established RoKel Painting in Oakland. He is survived by his wife Deborah; his mother-in-law Barbara McMullen; his sister-in-law Deirdre McMullen; his daughter Romy and her husband Sam Teigen of Hawthorne; and his daughter Kelda and her husband Evan York of New Hampshire, and his three grandchildren Sylvie, Esme, and Lincoln. He was predeceased by his brother Jeffrey Vreeland and his parents Walter A. and Rose Vreeland.