Paramus High School
Home of the Spartans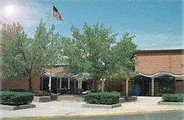 In Memory
Claudette Meliere - Class of 1967
Survived By: Parents Dot and Al Meliere, sisters Patricia Janda and husband, Ken; Donnalee Meliere and Alice Kivlon and husband, Bill.

She was VP of United Control Corp, Paterson. She was graduate of Muhlenberg College, Allentown, PA and received a master's degree from the Univ. of Akron, where she was an assistant professor. She was a member of the Rainbow Coalition. She also studied in Spain and Austria. Among her various and diverse careers, her final ambition was as a writer.
Her careers included research at Akron–Cleveland Medical Center, marketing positions with Bailey Control and Honeywell Corporation. As a past Green Party Candidate for Congress in 2000, a member of the Rainbow Coalition and a peace activist, she was an active fighter for justice and a believer of working towards a peaceful world. Claudette was an experienced traveler, having visited Canada, Europe, Asia, North and South America and the Caribbean Islands. She was also an amateur astronomer, attended six solar eclipses across the world, and was an avid opera buff.