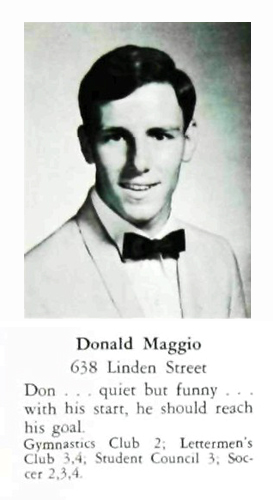 Donald Anthony Maggio
May 11, 1949 ~ August 11, 2021
Don Maggio, 72, of Clovis, NM, passed away on August 11, 2021, in Farwell Tx.
Visitation will be Tuesday, August 17, 2021, from 1:00-5:00pm at Steed-Todd Funeral Home in Clovis, New Mexico.
A graveside services will be held Thursday, August 19, 2021 at 11:00am at Ft. Sumner Cemetery with Damon Stalvey, of Portales United Methodist Church, officiating.
Don was born in Jersey City, New Jersey, to Anthony and Mildred Maggio on May 11, 1949. He married Jannette Richburg in 1989, in Clovis NM. He graduated from East Carolina University in 1971. Don enlisted in the Air Force in 1971, and spent several years in Germany, then spent his remaining time in the Air Force at Cannon Air Force Base in Clovis, NM. He then went on to work as a teacher/coach, then became an administrator for Clovis Municipal Schools until retirement.
Don enjoyed bicycling and garage sale-ing. Those were his two favorite hobbies.
Don was preceded in death by his parents, Anthony and Mildred Maggio and wife Jannette Maggio. Don and Jannette were married almost 25 years.
Don is survived by two daughters, Allyson Clifford Warrick of Clovis, NM, and Angela Miles Moulder of Farwell, TX, two sisters, Laura Maggio O'Carroll of Fair Lawn, NJ, and Elaine Ronnie Colon' of Englewood, NJ, and one brother, Robert Jean Maggio of Tampa, FL, four grandchildren, Kason and Kinley Warrick of Clovis, NM, and Bryce and Brie Moulder of Farwell, TX, and three nieces, Melissa O'Carroll of Saddle Brook, NJ, Michele Shane Murphy of West Milford, NJ, and Vanessa Tom Novak of East Rutherford, NJ, and nephew, Ryan Emily O'Carroll of Carlsbad, California.