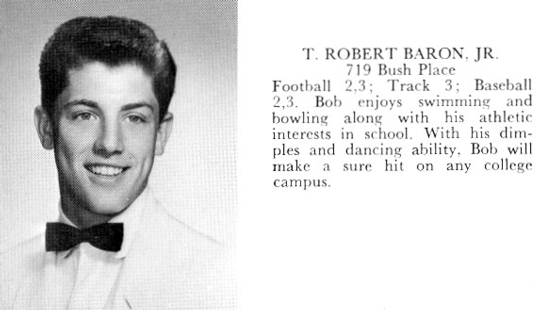 T. Robert Baron III, "Bob", 76, of Mahwah, owner of Baron Pool Service Ramsey, NJ, passed away suddenly while vacationing in Mexico on December 1, 2019. His beloved wife, Gerry and daughter, Gerylee, were by his side.
Born April 30, 1943 in Brooklyn, NY. He moved to Paramus when he was 11, where he loved playing baseball and was a member of the very first graduating class of Paramus HS. He is survived by both of his sisters, Barbara and Patricia.
In 1962, at the young age of 19, he met and married the love of his life, Gerry. They spent 57 beautiful years together and even renewed their vows a few times (including once with Elvis). They raised their three children; Dawn, TR and Gerylee and were blessed with five grandchildren; Heather and her husband Brett, Sean, Paige, Krista and Fallon.
When not with his family, Bob devoted his free time to bettering his community. Truly living up to the Rotary Club's motto of "Service above self in everyday Life" with his devotion to the Bergen Highlands Rotary club, with 34 years of perfect attendance. Also serving for nearly 40 years for the Mahwah Fire Department Company 2. Additionally, Bob was a member of the Ramsey Fire Department, the Knights of Columbus and the Mahwah Elks.
Bob served as Mahwah Fire Department Company #2 Battalion Chief from 1980-81, Mahwah Fire Department Town Chief 1984-85-86, President of Co #2 from 1986-87, Mahwah Fire Department Relief association secretary, and treasurer of Co # 2 from 1999 to present.
Being in the pool and spa industry for more than five decades, Bob certainly has left an impression and his signature not just on the business of the NYC Metro area but the industry as a whole on the national level. Bob was instrumental in forming the educational practices and certifications required for the pool industry to become the profession it is today. He served on almost every committee from inception to completion on Boards such as NESPA, Metro, APSP, and NSPI. However, what stands out the most is how Bob is directly responsible for the training and education of thousands of pool professionals.
His legacy will continue to live on as he is an author on numerous training guides and educational books for certifications that are nationally recognized as being the foundation of the pool industry's knowledge. Bob has received numerous awards such as 2016 CSP (Certified Service Professional) Man Of the Year and 2012-2013 PHTA Fellow.
The rank of PHTA Fellow is an honor bestowed on prominent individuals who have made distinguished contributions that raise professionalism in the aquatic community through teaching, research and/or exemplary service to others. Bob is also a Paul Harris Fellow, a Rotary Walter D Head recipient, and a Gift of Life host.
More locally Bob Baron was President of the Metro Chapter of NESPA on numerous occasions and was chair of the Education Committee for the last six years, where he taught all Service related certifications for hundreds of pool professionals. He was a teacher at heart.
Bob's sense of volunteerism was as big as his smile. From volunteer firefighting to serving on countless volunteer boards, he showed up and always contributed more than what was asked of him.