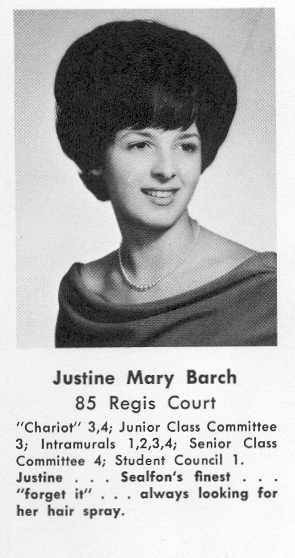 Justine Barch Marco, who had a career in the fashion industry in New York City and Florida and later an antiques and interior design business in Bridgehampton, died on March 26 at Rosary Hill Home in Hawthorne, N.Y., at the age of 73. She was diagnosed with cancer three years ago.
Ms. Marco graduated from the Fashion Institute of Technology in Manhattan in 1965 and began an eight-year stint with Lord & Taylor, where she eventually rose to become an associate buyer. In subsequent years she worked as a vice president at Cacharel, a French clothing and perfume company, and as a vice president at John Henry, a European-inspired American clothing brand. From 1973 to 1978, Ms. Marco managed an Yves Saint Laurent boutique in Bal Harbour, Fla., and ran a boutique of her own in Miami, called Abroad in America, from 1982 to 1987, during which time she lived in nearby Key Biscayne.
In 1989, she moved to Bridge­hampton, where she established her antiques business, Legendary Col­lections, at the historical Bull's Head Inn, now rebuilt as the Topping Rose House. She ran Legendary Collections until 2001, when she launched Justine Marco Ltd. Interior Design. She operated that business both in Bridge­hampton and Ridgewood, N.J., until this year.
Ms. Marco was born Justine Mary Barch on Oct. 6, 1945, in Passaic, N.J., to Gustav Barch and the former Anne Harvey. She grew up in Paramus, N.J., and graduated from Paramus High School.
Her family said she was "a person of great substance and strength, and also great style." "Justine was cherished for her extremely generous nature and for the total devotion and tireless energy that she brought to everyone and everything she loved: her family, her friends and neighbors, her faith, and her work," her one brother, John Barch of Nyack, N.Y., wrote.
In addition to Mr. Barch, Ms. Marco is survived by a niece, four nephews, and six grand-nieces and nephews.
Ms. Marco was a member of Queen of the Most Holy Rosary Catholic Church in Bridgehampton and of Our Lady of Mount Carmel Catholic Church in Ridgewood, N.J. A Mass of Christian Burial was said on April 1 at the Ridgewood church. Burial was at St. Nicholas Cemetery in Lodi, N.J.