George M. Richardson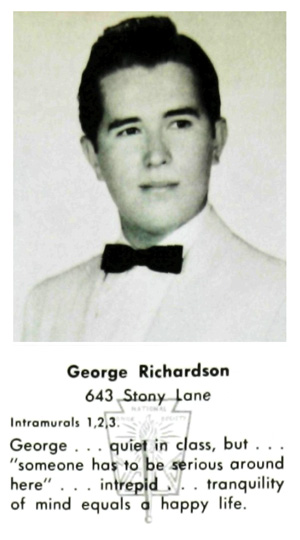 12/27/1944 - 11/29/2021
George Richardson, Jr., 76, of Wallingford, loving husband of the late Barbara (Lukashefski) Richardson, passed away November 29, 2021 at Connecticut Hospice.
George was born in Scranton, PA, on December 27, 1944, a son of the late George and Vera (Nesterick) Richardson.
George served in The United States Navy serving aboard the USS Lloyd Thomas. He was a longtime employee of RJ Reynolds. He loved sports and enjoyed watching the New York Giants, the UCONN Women's basketball team and the New York Yankees. He enjoyed family vacations, taking cruises with his wife. He especially loved spending time with his best friend, June, going to shows, weekends up north and sitting and talking at the beach.
George is survived by his daughters, Jennifer Lohman and her husband, James, of Dayville, and Jo Anne Salter and her husband, Michael, of Wallingford; his sisters, Karen Thompson and her husband, Paul, Evelyn Richardson and Ann Marie Richardson; his grandchildren, Jaimie, Alyssa, Michael Jr., and Vivienne; his best friend, June Krusewski; and several nieces and nephews.
His family will receive relatives and friends in The Wallingford Funeral Home, 809 North Main St., Ext., Wallingford on Sunday, December 5, 2021 from 2:00 pm until 5:00 pm. His funeral will be held at 11 am on Monday, December 6, 2021 at St. Paul's Episcopal Church, 65 North Main St., Wallingford. Interment with military honors will follow in St. John Cemetery, Wallingford. For online condolences visit
https://www.wallingfordfh.com/obituary/george-richardson
Published by The Record-Journal from Dec 2 to Dec 3, 2021.
Visitation - December 5, 2021
Hours - 2:00 PM - 5:00 PM
Wallingford Funeral Home
809 North Main Street Ext., Wallingford, CT
Funeral - December 6, 2021 - 11:00 AM
St. Paul's Episcopal Church
65 North Main St., Wallingford, CT