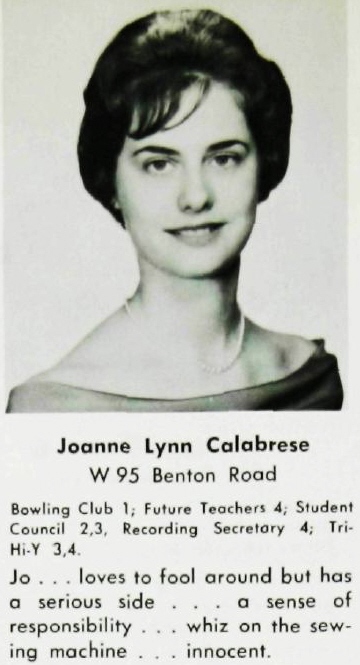 DOPF Joanne (nee Calabrese), 69, of Park Ridge, NJ and formerly of Paramus, passed away on March 3, 2014. She is survived by her husband of 45 years, Evan; her son, David Dopf; her daughter, Kimberly Gibson; her son-in-law, Jonathan Gibson; her mother, Anna Calabrese; her brother, Dennis Calabrese; and her beloved grandchildren, Harrison and Sydney Gibson and Christian and Alexandra Dopf.
Joanne was a special education teacher for the Northern Valley Regional High School at Demarest. She was one of the first special education teachers at NVHS and in the State of New Jersey, to implement the State's plan to revise special education procedures. She worked collaboratively with regular education teachers to instruct special education students in mainstream, regular education classes. She was always committed to the success of her students.
Joanne loved life. She always wanted to be with her family and friends, especially with her beloved grandchildren, whom they called "Nana." She also enjoyed walking, kayaking at Peck's Lake (always trying to find and paddle with the loons), her flower gardens, birdfeeder, reading, and her travels in and out of the country.
Joanne was a member of the First Congregational Church of Park Ridge and served on the Board of Missions. She will always be remembered working in the boutique at every church sale.
A memorial service will be held on Saturday, March 8, 2014, at 10:30 AM, at the First Congregational Church, 131 Pascack Road, Park Ridge, NJ 07656. In lieu of flowers, donations may be made in her honor to the Memorial Sloan Kettering Cancer Center, Breast Oncology Department, 300 East 66th Street (8th Floor), New York, NY 10065; or to the music department of the First Congregational Church, 131 Pascack Road, Park Ridge, NJ 07656.
Joanne (nee Calabrese), 69, of Park Ridge, NJ and formerly of Paramus, passed away on March 3, 2014.
She is survived by her husband of 45 years, Evan; her son, David Dopf; her daughter, Kimberly Gibson; her son-in-law, Jonathan Gibson; her mother, Anna Calabrese; her brother, Dennis Calabrese; and her beloved grandchildren, Harrison and Sydney Gibson and Christian and Alexandra Dopf.
Joanne was a special education teacher for the Northern Valley Regional High School at Demarest. She was one of the first special education teachers at NVHS and in the State of New Jersey, to implement the State's plan to revise special education procedures. She worked collaboratively with regular education teachers to instruct special education students in mainstream, regular education classes. She was always committed to the success of her students.
Joanne loved life. She always wanted to be with her family and friends, especially with her beloved grandchildren, whom they called "Nana." She also enjoyed walking, kayaking at Peck's Lake (always trying to find and paddle with the loons), her flower gardens, birdfeeder, reading, and her travels in and out of the country.
Joanne was a member of the First Congregational Church of Park Ridge and served on the Board of Missions. She will always be remembered working in the boutique at every church sale.
A memorial service will be held on Saturday, March 8, 2014, at 10:30 AM, at the First Congregational Church, 131 Pascack Road, Park Ridge, NJ 07656.
In lieu of flowers, donations may be made in her honor to the Memorial Sloan Kettering Cancer Center, Breast Oncology Department, 300 East 66th Street (8th Floor), New York, NY 10065; or to the music department of the First Congregational Church, 131 Pascack Road, Park Ridge, NJ 07656. - See more at: http://www.legacy.com/obituaries/northjersey/obituary.aspx?n=joanne-dopf&pid=170030254&#sthash.ZiPeNhb6.dpuf
Joanne (nee Calabrese), 69, of Park Ridge, NJ and formerly of Paramus, passed away on March 3, 2014.
She is survived by her husband of 45 years, Evan; her son, David Dopf; her daughter, Kimberly Gibson; her son-in-law, Jonathan Gibson; her mother, Anna Calabrese; her brother, Dennis Calabrese; and her beloved grandchildren, Harrison and Sydney Gibson and Christian and Alexandra Dopf.
Joanne was a special education teacher for the Northern Valley Regional High School at Demarest. She was one of the first special education teachers at NVHS and in the State of New Jersey, to implement the State's plan to revise special education procedures. She worked collaboratively with regular education teachers to instruct special education students in mainstream, regular education classes. She was always committed to the success of her students.
Joanne loved life. She always wanted to be with her family and friends, especially with her beloved grandchildren, whom they called "Nana." She also enjoyed walking, kayaking at Peck's Lake (always trying to find and paddle with the loons), her flower gardens, birdfeeder, reading, and her travels in and out of the country.
Joanne was a member of the First Congregational Church of Park Ridge and served on the Board of Missions. She will always be remembered working in the boutique at every church sale.
A memorial service will be held on Saturday, March 8, 2014, at 10:30 AM, at the First Congregational Church, 131 Pascack Road, Park Ridge, NJ 07656.
In lieu of flowers, donations may be made in her honor to the Memorial Sloan Kettering Cancer Center, Breast Oncology Department, 300 East 66th Street (8th Floor), New York, NY 10065; or to the music department of the First Congregational Church, 131 Pascack Road, Park Ridge, NJ 07656. - See more at: http://www.legacy.com/obituaries/northjersey/obituary.aspx?n=joanne-dopf&pid=170030254&#sthash.ZiPeNhb6.dpuf
Joanne (nee Calabrese), 69, of Park Ridge, NJ and formerly of Paramus, passed away on March 3, 2014.
She is survived by her husband of 45 years, Evan; her son, David Dopf; her daughter, Kimberly Gibson; her son-in-law, Jonathan Gibson; her mother, Anna Calabrese; her brother, Dennis Calabrese; and her beloved grandchildren, Harrison and Sydney Gibson and Christian and Alexandra Dopf.
Joanne was a special education teacher for the Northern Valley Regional High School at Demarest. She was one of the first special education teachers at NVHS and in the State of New Jersey, to implement the State's plan to revise special education procedures. She worked collaboratively with regular education teachers to instruct special education students in mainstream, regular education classes. She was always committed to the success of her students.
Joanne loved life. She always wanted to be with her family and friends, especially with her beloved grandchildren, whom they called "Nana." She also enjoyed walking, kayaking at Peck's Lake (always trying to find and paddle with the loons), her flower gardens, birdfeeder, reading, and her travels in and out of the country.
Joanne was a member of the First Congregational Church of Park Ridge and served on the Board of Missions. She will always be remembered working in the boutique at every church sale.
A memorial service will be held on Saturday, March 8, 2014, at 10:30 AM, at the First Congregational Church, 131 Pascack Road, Park Ridge, NJ 07656.
In lieu of flowers, donations may be made in her honor to the Memorial Sloan Kettering Cancer Center, Breast Oncology Department, 300 East 66th Street (8th Floor), New York, NY 10065; or to the music department of the First Congregational Church, 131 Pascack Road, Park Ridge, NJ 07656. - See more at: http://www.legacy.com/obituaries/northjersey/obituary.aspx?n=joanne-dopf&pid=170030254&#sthash.ZiPeNhb6.dpuf