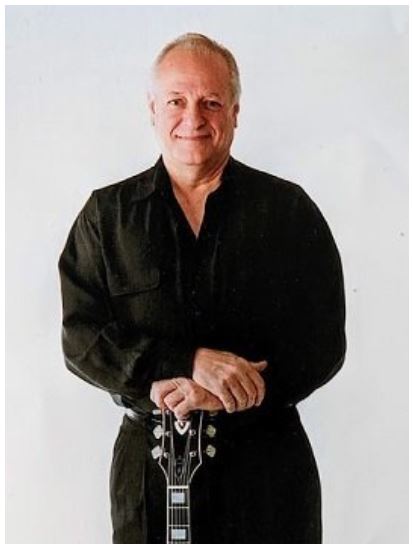 Guitarist Gerard Topinka, 75, of Manalapan, passed away peacefully at home on June 5, 2019. He is survived by his loving wife, Beth; his son and daughter-in-law, Troy and Paige of Jackson, NJ; his daughter and son-in-law, Jaime and Tom Dancer of Millstone Twp; stepsons, George Asbeck of Stuart, FL; Samuel Asbeck of Miami, FL; 3 siblings, Fred and his wife, Karen of Brick; Andrew and his wife Patricia of Wayne; Robert and his wife Barbara of Philipsburg, PA.
The son of Ferdinand Topinka and Virginia Calvacca, Jerry spent his youth in Paramus, NJ, surrounded by an exuberant, close-knit group of friends. He treasured memories of summers spent waterskiing with his brothers and he relished sharing tales of his youthful Corvette escapades. Jerry served for six years in the Army National Guard, but his Chailo bandmates were his true "Band of Brothers," together for 43 years. Jerry was well known in jazz circles, performing with guitar legends such as Les Paul and Martin Taylor. In recent years, he appeared regularly at the Princeton Salt Creek Grille with his jazz quartet, Groove 13.
Jerry will be fondly remembered by fellow artists for his energetic, warm, easygoing nature coupled with the highest standards of musicianship. He built a loyal, generation-spanning network of friends, culminating in his being honored by the Jersey Shore Jazz and Blues Foundation and REJS Jazz at a heartfelt tribute event in January 2019.