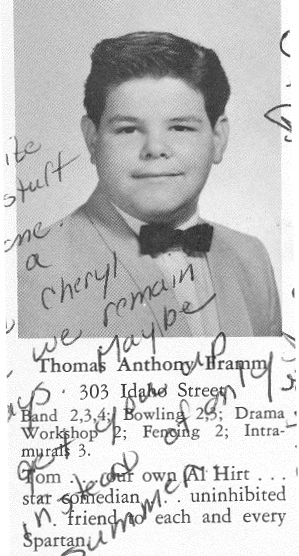 FRAMM - Thomas Anthony, age 64, of Haledon, passed away on Friday, April 20, 2012. Born in Englewood, he lived in Haledon for 28 years and was formerly from Elmwood Park and Paramus.

He grew up in Paramus, enjoyed being a Boy Scout and played Little League there; graduated from Paramus High School in 1965 and played trumpet in the band while in high school. He briefly attended Glassboro State College. Tom worked for ITT Artic Services where he met his wife and sweetheart, Dolores (Dee) (nee King), who worked for ITT Federal Electric. Together, they attended Woodstock and were married on a snowy December 14, 1969.
After leaving ITT, Tom briefly worked as a loading dock worker and then became a driving school instructor. He later followed his father's footsteps and became an oil burner technician and then opened his own oil burner repair business.

He was an avid hockey fan and a goalie in organized, amateur ice hockey leagues and played with the Westwood Suns, the North Stars, and briefly played with the New York Fire Department. He was also an avid bowler. Tom also enjoyed playing the trumpet and flugelhorn on his church worship team when he attended Wyckoff Assembly of God. He also enjoyed being a member of the Jacksonville Chapel Concert Band for a few years. He enjoyed fishing and was a member of the Bergen Bassmasters, a competitive bass fishing club and was club secretary for a brief period.

But Tom was most happy when he was out in his boat on Rangeley Lake in Maine or fishing from the dock with his daughter Tammy, son-in-law Ray Biggs and grandkids Courtney and Joshua, or playing croquet with his wife and friends, or playing Monopoly or Ticket-To-Ride board games, or a game of Uno at a kitchen table.

Sadly, due to deteriorating health conditions, Tom had to give up all the activities that made him happy, but not until leaving us a lifetime of love and happiness. Besides his immediate family and closest friends, Tom is also survived by his loving step-mother Elaine Framm, and cousins in Michigan and New Jersey. We will all miss him. He is pre-deceased by his mother Lillian (VanDelden) Bubendorf, his father Thomas Amedeo Framm, and his step-father, George Bubendorf.