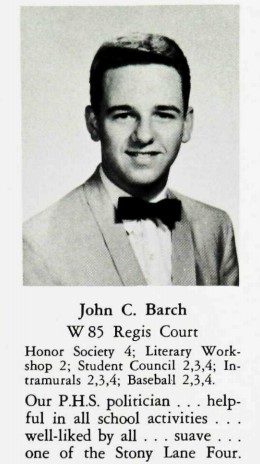 John Cormac Barch, age 73, passed away at home on Tuesday,
April 21, 2021, surrounded by his family, due to complications from lung cancer. Family devotion began early for John who grew up in Paramus, NJ, in a large extended family. His parents, Gustav and Anne (Harvey) Barch, and sister Justine Marco, predeceased him.
John attended Paramus HS before heading to Boston College where he earned his BA in Political Science and met the Emmanuel College girl he would eventually marry, Jane McGovern.
After serving in the Air National Guard in NY, John pursued his MBA at Columbia University where he remained to become Assistant Dean and Director of Admissions and Financial Aid at Columbia Business School from 1973-78.
He would go on to serve as Manager of Programs and Corporate Recruiting for the Mobil Oil Corporation prior to his 24 year career with Deloitte where he served in senior Human Resources roles in both the Global organization and the U.S. firm. For his final 13 years he led Deloitte's leadership development activities in the U.S. and later, globally.
At home in Nyack, John with Jane, his wife of 50 years, raised a family of four devoted children who survive him: Kate (Barch) Heaton (husband Christopher) of Boston, MA; Michael (wife Jill McKinley) of Huntington, NY; James of Brooklyn; and Nicholas of Nyack, NY along with six amazing grandchildren. John was a longtime parishioner of St. Ann's Church in Nyack where he served on the Parish Council for several years.
He also devoted himself to a Jesuit program in NYC entitled "Boys Hope" that supported several residential programs for teenage boys at risk, and offered them a Jesuit high school education. In more recent years, John served as the first Treasurer and a charter Executive Board member for The Marydell Faith and Life Center that supports and oversees all activities at Marydell in Upper Nyack, NY.
John's resume alone cannot capture the warmth, kindness, wit, love of baseball (especially the NY Yankees) and golf, loyalty to family, friends, church and community that he radiated. Blessed with a large family and circle of friends, upon learning of his diagnosis in July, John acknowledged that
"I have had a wonderful life."
Those who loved him agree, but wish it had been longer.
In lieu of flowers, charitable donations can be made to:
The Marydell Faith and Life Center
640 N. Midland Ave.
Upper Nyack, NY 10960
St. Ann's Food Cupboard
16 Jefferson St.
Nyack, NY 10960