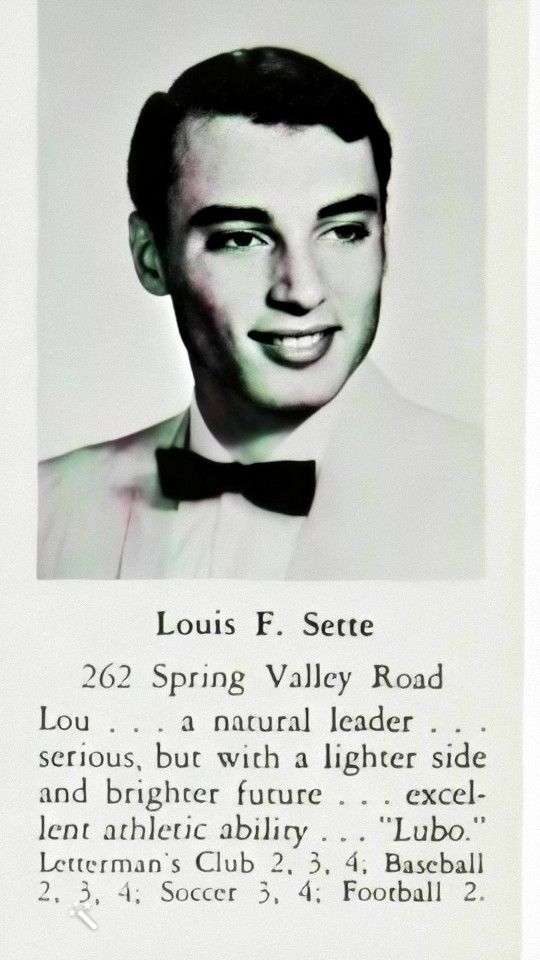 SETTE Louis Frank, born May 17, 1946, stepped out of this life and into life eternal with our Lord and Savior Jesus Christ at 8:45 AM on Saturday, February 28th, 2015 after more than two years battling leukemia.
Born to an Italian American neighborhood in South Hackensack, New Jersey, Louis graduated from Paramus High School in 1964, where he was proud to be the starting catcher on the baseball team that won the state championship his senior year. He initially attended the University of Notre Dame before transferring and graduating from Seton Hall and later Rutgers' Law School. His life took him on many travels, including working in radio in Greenville, South Carolina and later NBC television in Cleveland, Ohio where he was a news anchor.
Later he opened up his own law practice in New Jersey, was involved in the family business located on Sette Drive in Paramus, New Jersey, and ran for the congressional nomination for the Republican Party in the 5th district in 1992. By far, Lou's pride and joy in life was his 32 year marriage to his loving wife Rosemary, and together they shared countless memories and gave a wonderful life to each other. Lou is survived by his wife, his son Frank, son Mark and daughter in law Jael, sister Patricia and her husband David and their children Daniel and Mariana.
Louis Sette, an attorney who waged a spirited 1992 primary challenge against Republican Rep. Marge S. Roukema, died Saturday at his home in Virginia. He was 68. The cause was leukemia, his family said. Mr. Sette, formerly of Paramus, brought an eclectic resume to his only foray into politics. The Paramus High School and Seton Hall University graduate had been an announcer for radio stations in South Jersey and South Carolina and a news reporter and producer for a television station in Cleveland. He was an assistant Bergen County prosecutor in the 1980s and was also involved in his family's property management business on Sette Drive in Paramus.
During the primary campaign, Sette slammed the moderate Roukema, then seeking her seventh term, as being "so far to the left she's essentially a Democrat. He described himself as a "kitchen table" conservative Republican who favored congressional term limits and looser government regulation on business.
He and the pro-choice congresswoman sparred heatedly over abortion. Mr. Sette and Roukema clashed when they, and two other challengers, appeared before The Record's editorial board. Mr. Sette labeled Roukema a "pro-abortion extremist" and her claims to fiscal conservatism as "mythology." Roukema angrily responded that Mr. Sette was a single-issue candidate advancing the extreme right-to-life positions of a small minority that would like to take over the Republican Party."
Roukema won the primary with 60 percent of the vote. Mr. Sette grabbed a respectable 25 percent. He felt he had Marge on her heels and enjoyed the challenge of running," said Mr. Sette's son, Mark. "He felt it was the right thing to do, based on Marge's beliefs."
Mark Sette added that his father believed the primary challenge helped pave the way for a far more conservative Republican, Scott Garrett, who succeeded the retiring Roukema in 2002. Roukema died in November at 85. Mr. Sette and his family moved to the Lynchburg, Va., area 15 years ago. For a time, Mr. Sette owned a bookstore in Lynchburg.
Athletic Hall of Fame Induction
Lou Sette - Bob Cortese - Jerry Giampetruzzi