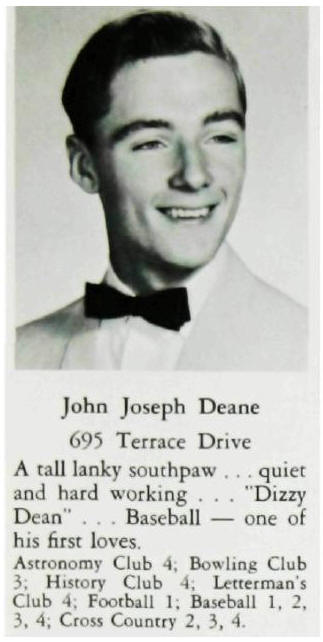 John Deane, 67, formerly of Ringwood, NJ passed away on April 17, 2013 in Collierville, Tennessee. John is survived by Linda, his wife of 44 years, Greg Deane, Jennifer Keppler and her husband, Kris, and Jeff Deane and his wife Alesha. He leaves behind his precious grandchildren, Lindsey and Kyle Keppler and Alayna and Mason Deane.
John graduated from Fairleigh Dickinson University in 1969. He joined the United States Army Security Agency immediately after college. John served for 3 years and spent 1 ½ years in Okinawa. J ohn worked at Atlantic Detroit Diesel-Allison in Lodi for 33 years. He retired in October of 2011. In July, 2012 Linda and he moved to Collierville, TN where both their sons live.
John was born in Passaic, NJ. He grew up in East Rutherford and Paramus. He was the star pitcher of the 1964 Paramus High School baseball team. This team compiled a 25-2 record and won the Northern NJ Interscholastic League championship, the Bergen County tournament and the State Group IV sectional championship.
John continued his love of baseball by becoming actively involved in the Ringwood Little League program. He was president of the Ringwood Little League for several years and coached both his sons. He coached the Ringwood travel team 7 times and won the District championship 6 times. In 1992 he brought the 13 year old team to the Junior League World Series in Taylor, Michigan. He repeated this feat in 1994 with the Senior League World Series in Kissimmee, Florida. Only 8 teams from around the world played in each of these tournaments. Ringwood represented the Eastern United States both times.
John joined Porta's Karate-Do in Pompton Lakes. He enjoyed being a karate instructor and earned his 4th degree Black Belt. John played softball with The Sharks and the F.O.G. He also became an avid golfer and was a member of the Memphis National Golf Club.