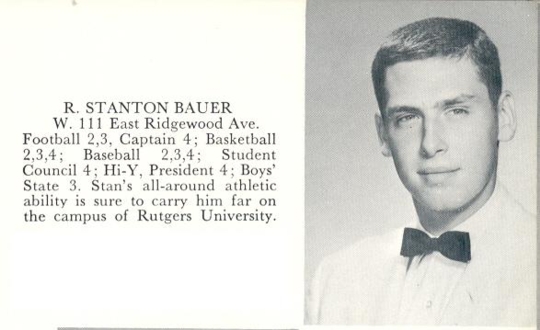 Mahwah - Stan Bauer, 78, passed away on December 3, 2020 of Mahwah formerly of Upper Saddle River. Born in Jersey City, he was predeceased by his parents Charles and Ruth (nee Enderlein) and his brothers Ronald and Charles II.
He received his BA degree from Rutgers. While there he was President of Beta Theta Pi Fraternity. He was a 6 year Veteran of the U.S. Army and retired as a 2nd Lt. He went on to receive his Masters from Fairleigh Dickinson in Teaneck.
Stan spent a life long career in sales and marketing. Before retiring in 2005 he was V.P. and General Manager for Fuji Film U.S.A. and during his Fuji career he was President of ITA Trade Association. Among his many achievements he was inducted into Paramus High Schools Athletic Hall of Fame where he was honored in three sports.
Stan spent most of his retirement enjoying golf at the Tuxedo Club where he was a member for 27 years. He traveled extensively and his travels were enhanced by his love of books.
He is survived by his wife of 51 years, Susan (nee Forrester), his son Matthew and his wife Marisa, and Stan's beloved grandchildren, Javier and Amaia and last but not least his seven iron.
A celebration of Stan's life will be held at a later date.