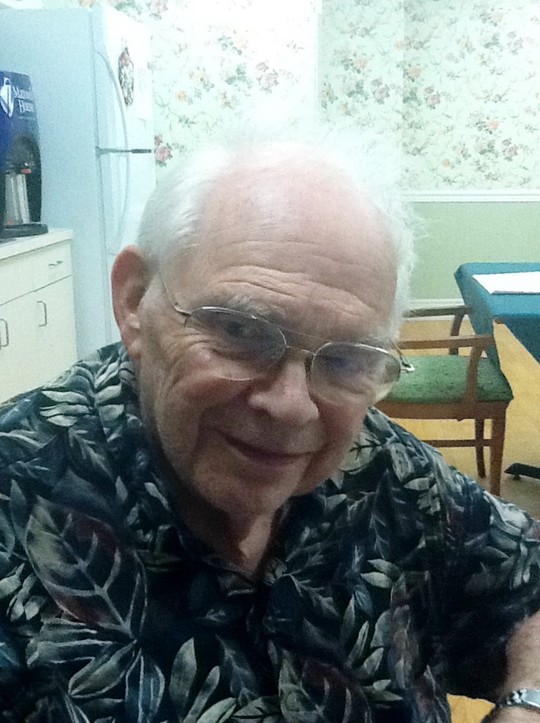 Brookline - Robert Boyce, 93, formerly of Grassy Brook Road in Brookline, passed away peacefully Saturday afternoon, June 27, 2015 at Vernon Green Nursing Home.
Life has been compared to many experiences but none is more appropriate than that of graduation when "the final curtain comes down" for an educator.
For Robert Edward Boyce, life began on May 11, 1922 in Middletown, NY, where his father, mother and older brother lived on a dairy farm. The family moved to New Jersey when Mr. Boyce was only five. He remained in New Jersey all his life until he retired to Vermont in June of 1992 to become a "Country Gentleman". Mr. Boyce was of Scotch-Irish descent with a touch of royalty in his background, having been related to the Stuarts of Scotland.
Educated in the Newark, NJ school system: Sussex Avenue Grammar School (1928-1935), Barringer High School (1935-1939), Central Night School (1939-1940) for commercial subjects, Newark Junior College (1940-1941), Upsala College (1946-1949, BA degree), one year of graduate study at the State University (Rutgers) in New Brunswick, NJ (1949-1950). Mr. Boyce also gained valuable business experience by working at the W.V. Egbert & Sons Plumbing Supply Company in Newark, NJ (1941-1943), where he was a bookkeeper, and for the government during WWII at the ODB (Office of Dependency Benefits) in Newark, NJ, beginning as a clerk and working up to an I.B.M. Supervisor (CF-5), before entering Upsala College at 25 in 1946.
Mr. Boyce entered the teaching profession at the age of 28 and taught high school English for forty years. He began in Atlantic Highlands High School, Atlantic Highlands, NJ, from 1950-1951. Then for eight years he was a teacher of English and a guidance counselor at Passaic Valley High School, in Little Falls, NJ, from 1952-1960. In 1960 he entered Paramus High School in Paramus, NJ and remained there for 32 years, until he retired in 1992 at the age of 70. While at Paramus, Mr. Boyce earned the enviable record of perfect attendance for the entire 32 years. He was also the Delphian Yearbook adviser for the entire time, with a total of 40 years as a yearbook adviser in his career. While at Paramus, Mr. Boyce found time to tutor for the S.A.T. tests for over a dozen years and he taught at the Rutherford Adult School for over fifteen years. Bob kept a file card for each student he ever taught, and his focus was on making each of them a better student and a better person.
At the time of his retirement, Mr. Boyce was surprised with a farewell dinner sponsored by his wonderful friends, Mr. Lenny Dian and Mrs. Dorothy Dian of the Dian Studios of Photography in Fort Lee, NJ. The dinner was held at the Sheridan Hotel in Hasbrouck Heights, NJ on Sunday, May 17, 1992, where over 200 people, including former students from all over America as well as friends and faculty, gathered to honor Mr. Boyce. Many of his former students spoke at this affair. He was presented with a beautiful Howard Miller grandfather clock which stands in his living room in Vermont. He also furnished his home with many of his mother's original paintings and other art work.
In July of 1992, Mr. Boyce fulfilled his dreams by moving into his long-desired home of his own on three acres of land in Brookline, Vermont, a small town of 300-400 people of Route 30, near Newfane, Vt. In Vermont, Mr. Boyce found time to be involved in several kinds of activities. He taught a course at the Community College in Brattleboro, Vt. on Basic Writing; he wrote at least 30 poems, several of which have been published by two poetry societies; and he authored a series of manuals for high school students on poetry, the short story, and the essay. In addition, Mr. Boyce served as president of the Windham County Camp of the Gideon Society; he served on the Governing Board of his church, the Green Mountain Chapel in Brattleboro, Vt.; and he served as treasurer at his church for several years. His hobbies included reading, writing, collecting books for his library, baking cakes and bread, collecting teddy bears, and maintaining a large correspondence of nearly 200 people at Christmas time. Mr. Boyce also exercised using an unusual method of walking barefoot in the dew, which he dubbed "rorambulation", every morning from May to October on his property at sunrise.
Mr. Boyce's greatest honor was being selected to give the valedictory address to his fellow students in June 1949, when he graduated summa cum laude from Upsala College in East Orange, NJ. He also received a gold medal from the Newark Junior College for his work in journalism and, while at Upsala, he received the Tau-Beta Sigma Award for the highest junior academic standing. Mr. Boyce won a scholarship to study on the graduate level at Rutgers, the State University in New Brunswick, NJ.
One brother, Charles William, a navy veteran and a skilled Industrial Arts teacher, preceded Mr. Boyce in death over twenty years ago.
Mr. Boyce loved people and he loved his teaching. He taught over 4,000 students during his career. He always considered Dr. David Garvin of the Harvard Business School as his 'best' student. He had a loyal following of many former students. He also considered Col. Norb Johnston and family of Brattleboro, Vt. and Todd Ross Perna and family of West Halifax, Vt. among his best friends in Vermont.
A long and useful life of service has come to an end but Mr. Boyce's influence will be a lasting testimony to his devotion to the teaching profession.
Funeral services will be conducted Thursday (7/9) at 11:00 a.m. at the Green Mountain Chapel on Western Ave. with Pastor Bill Steele officiating. A reception will follow the services to be held in the church fellowship hall.
Committal prayers and burial are scheduled for Friday at 10:00 a.m. in the Boyce family lot in Rosemont Memorial Park in Elizabeth, NJ.
Memorial contributions in Mr. Boyce's name may be made to Gideons International, P.O. Box 2335, West Brattleboro, VT 05303.