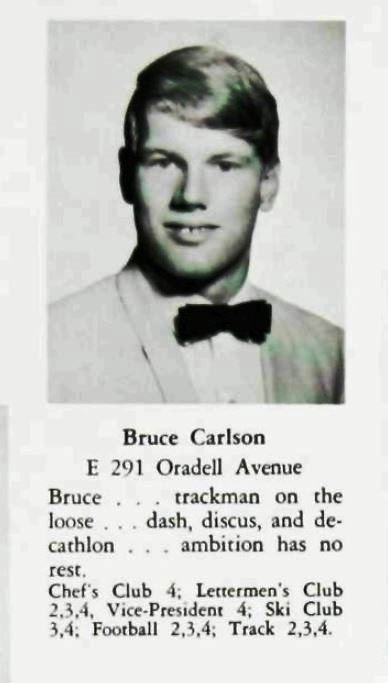 Bruce Allen Carlson, 67, was born in Plattsburgh, NY, May 13, 1951. Carlson graduated from Paramus High School, Paramus, NJ in 1969. He attended Springfield College in Springfield, Mass. After college, he lived in Burlington, VT, Pearisburg, VA, St. Augustine, FL and settled in Landrum, SC in 1989 where he resided until his passing.
During high school and college, Carlson was a well known, talented athlete in football and track and field, earning many awards and setting records in Discus.
Carlson was a master craftsman in woodworking and tile setting. He was actively involved with his ceramic tile installing business in the local area from 1989-2010. He also was an accomplished vocalist and musician. He performed locally at the Silver's Edge in Tryon, NC from 2007-2008 on a weekly basis. Carlson was a Track and Field throws coach at Polk County High School during the years 1999 through 2007. He had a deep appreciation for nature and learning about ancient cultures. He passed along this enthusiasm through teaching others.
He is survived by his wife Lynn Carlson, son Jordan Bruce Carlson and daughter in law Michelle Carlson of Elkton, MD; son Justin Nels Carlson of Lexington, KY; mother, Arline Carlson of Paramus, NJ; brother David Carlson of Paramus, NJ; sister Gail McGee of Manchester, NH; grandchildren Alexis Carlson and Bradley Carlson, and his beloved pets Scout and Ranger.
He was a warm, friendly person who had a kind heart and never knew a stranger. He was a devoted husband and dedicated and encouraging father and grandfather. He will be sadly missed and remembered fondly by all who's paths he crossed.