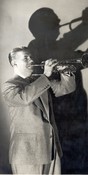 Frank L. Ryerson (July 3, 1905 - May 15, 1995) was an American trumpeter, composer, arranger and educator.
Ryerson played trumpet with such big bands as Glen Gray and the Casa Loma Orchestra, Jimmy Dorsey, Jack Teagarden, Vaughn Monroe and Mal Hallett. He appeared on several recordings with big bands beginning in 1927 into the 1940s. He co-wrote the Dorsey hit "Blue Champagne" written in 1941 and covered by The Manhattan Transfer in 1975. He also wrote the stirring "Lament in D Minor". By 1949 he was the orchestral arranger for Vaughn Monroe.[2]
For the remainder of his career he was an educator. In the 1950s he ran the Paramus, New Jersey school music program, becoming in 1957 the music director at the new Paramus High School where he created a student concert band, marching band and big-band style dance band, arranging many of the charts himself and introducing innovative techniques to the marching band not common at the time. The organizations were known for their high quality and enthusiasm from the beginning. He wrote the alma mater lyrics (sung to the tune "Aura Lee" or for the Elvis Presley fans out there, "Love Me Tender"). He also during this period led and played trumpet in a small professional dance/jazz combo and provided private trumpet lessons at his home in the adjacent town of Fairlawn, NJ to students from the surrounding area.
In 1976 Ryerson retired and moved to Clearwater, Florida where he died on May 15, 1995 at the age of 89. He was an inspiration to all PHS band students and alumni who had the honor of having him as a band director and teacher and will be missed.