Paramus High School
Home of the Spartans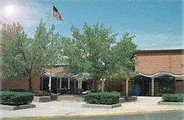 In Memory
Paul Lester Russell - Class of 1960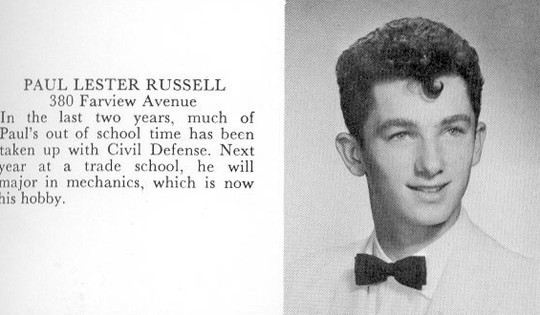 Paul L. Russell, 71 of Damariscotta, died Thursday morning, May 8, 2014 at his home.
He was born July 24, 1942 in Teaneck, New Jersey, a son of the late Gordon and Louise (LeBeau) Russell. He was a member of the first graduating class at Paramus High School in New Jersey in 1960. He vacationed in Maine every summer with his parents and moved here in 1972.
On August 14, 1973 he married the love of his life, Diane Perry at Pemaquid Point.
In 1972 he began working at Louis Doe's, and in 1976 started his own business, Paul's Plumbing and later, Biscay Appliance and TV / Computer Barn. While running his own business, he was also a patrolman for the Lincoln County Sheriff's Office, a part-time officer for the Damariscotta Police Department, and worked for the Central Lincoln County Ambulance Service. After selling his business in 1987, he worked court security for the State of Maine; and in 1992 he went to work full-time at Sears Appliance Service in Brunswick, partially retiring in 2004 and entering full retirement in 2010.
Mr. Russell was a member of Orient Masonic Lodge No. 15 in Thomaston; Scottish Rite of Freemasonry, Valley of Rockland; Royal Arch Masons, Keystone Chapter No. 24, Rockport; Knights Templar, Claremont Commandery No. 9, Rockland; York Rite, King Hiram Council No. 6, Rockland; and Order of Eastern Star, Grace Chapter No. 93 in Thomaston.
Paul enjoyed hiking and biking, fishing, eating good foods, and seeing a good movie; but more than anything, he loved spending time with his family, especially his children and grandchildren.
In addition to his parents, he was preceded in death by his brother Scott, who died May 4, 2013; and his niece, Jackie.
Mr. Russell is survived by his loving wife of more than forty years, Diane Russell of Damariscotta; five daughters: Dawn Kampmeyer and her husband John of Arab, Alabama, Darianne Nissen and her husband Derek of Palm Bay, Florida, Lenore Parsons and her husband Joel of Edgecomb, Michelle Walker of Oakland, and Debbie Russell and her life partner Nick Paulino of Nobleboro; grandchildren: Doug Foss, Deanna and Jacklyn Kampmeyer, Rachel Kilgore and her husband Chris, Randy Beauchamp, Kristin Cox, Katie Cox, Zachary Poland, Noah Parsons, Alec Walker, Benjamin Walker, Catherine Walker, Nevan Paulino, Ivy Paulino, and Nathalie Paulino; great-grandchildren: Kyleigh and Nathaniel Kilgore; two brothers, Gordon Russell of Florida and Glenn Russell and his wife Janice of Florida; as well as twelve nieces and nephews.