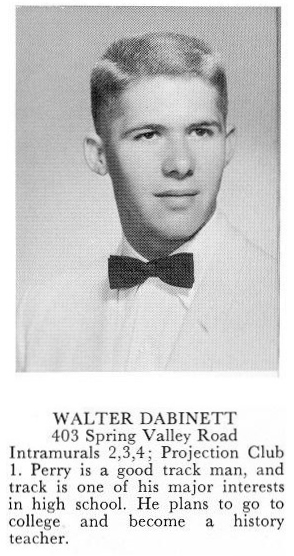 Walter P. (Perry), 71, of Wanaque, NJ, formerly of Paramus and Hackensack, NJ died peacefully at home on Saturday, November 16, 2013.
Perry, as he was known to his family, graduated from Paramus High School, Class of 1960 and Fairleigh Dickinson University, Class of 1964 with a BS in Economics. He will be remembered at both as a standout track star and medalist. He was a Veteran of the US Navy serving during the Vietnam War where he completed Naval Aviation training and achieved the rank of LT, serving as the Executive Officer on the USS Blanco and USS Meeker County.
After the war, he held management positions in several retail chains in Bergen County including Lazy Boy and Sleepy's. After retirement he continued to work as a Security Officer in NJ offices and warehouses.
Perry was the loving son of Walter and Muriel, former long time residents and school employees in Paramus. He is survived by a son, Chad and two grandchildren of Seattle, WA, his loving sisters Dianne White Robertson of Plano, TX, Joyce Campbell of Wanaque, NJ and Nancy Austin of Westport, CT and many loving cousins, nieces and nephews who will miss his smile and laughter.
The family wishes to thank the doctors and staff at the Hackensack University Medical Center Heart Failure Program as well as the US Dept. of Veterans Affairs Agent Orange Program for their care and support.