Paramus High School
Home of the Spartans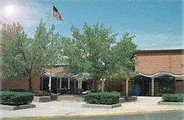 In Memory
Elizabeth Frost - Class of 1962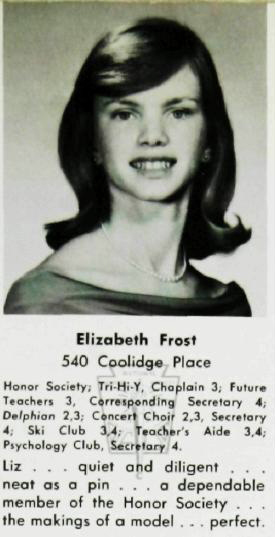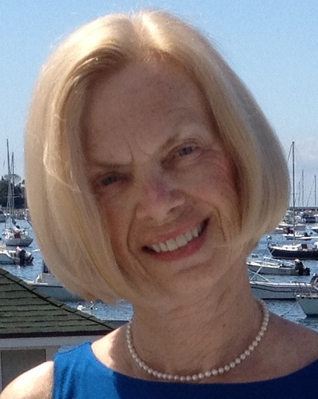 Elizabeth Frost Davidson Ledwith, who taught high school English first in New Jersey, and later in New York, passed into eternal life on Jan. 1, 2013, at the Connecticut Hospice, Branford, Conn., after battling acute myeloid leukemia for more than a year.
She was born Elizabeth Frost in Hackensack, N.J. As a high-spirited wife and mother, she lived with her family in Oakland, N.J. and Ramsey, N.J., Larchmont, N.Y. and North Salem, N.Y., and later Wyckoff, N.J., before moving fulltime to her home in Madison, Conn. in 2012.
Mrs. Ledwith earned her bachelor's degree from Douglass College, New Brunswick, N.J. She was always proud to say that the young ladies at Douglass, including herself, had to sign in and out of their dorms in the evening. During her teaching career, where she worked diligently and exuberantly to open the world of English literature to her students, Mrs. Ledwith taught at various schools in New Jersey. She subsequently spent more than a decade as an English teacher at Iona Preparatory School in New Rochelle, N.Y. She also taught for a brief period at New Fairfield High School in Conn.
Known to family and friends since high school as "Liz," she was an outdoor, healthy living and exercise enthusiast. She loved gardening, tennis, walking, skiing, camping, swimming and boating. She also had a special fondness for poodles, Siamese cats, dark chocolate and a glass of wine. Her love of language was reflected in her enthusiasm for German, in which she became fluent while in college. She was also admired as an avid reader across a variety of genres.

"Liz always had boundless energy and optimism, and she spread that enthusiasm throughout her family, students and her many friends with a personal motto of 'Carpe Diem,'" said her husband, George. "She was determined and positive throughout her life. Liz may have been weakened by her illness, but she was the strongest woman I've ever known, and she set an example for anyone facing adversity."

Her first husband, Philip Marques Davidson, died in 1996. Surviving, along with her husband, George, whom she married in 1998, are her daughter, Brooke Smith of New Milford, Conn.; her sons, Langford and Eric, of Somerville, Mass. and North Reading, Mass., respectively; and two granddaughters, Bree Elizabeth Smith and Juliet Marques Davidson. Also surviving are her husband's sons, Chris, of North Salem, N.Y. and Brian, of Portland, Maine, and a grandson, Ryan Ledwith. Her sister, Jeanne Frost, of Teaneck, N.J. also survives her.