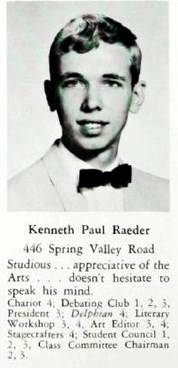 Kenneth P. Raeder
DIA Senior Intelligence Analyst Kenneth Paul Raeder, 61, who retired in 2005 as a senior intelligence analyst for the Defense Intelligence Agency section overseeing Latin America, died Oct. 3 at Inova Fairfax Hospital. He had complications from heart and lung ailments as well as liposarcoma, a rare form of cancer.
Mr. Raeder joined the DIA in 1979 and toward the end of the Cold War helped analyze the roles of the Soviet and Cuban military in Latin America. He also briefed high officials on hostage crises and the Falkland Islands war and went on fact-finding visits to Nicaragua and Honduras. He was operations officer in 1986 for the Libya Intelligence Support Team and was an analyst in 1998 for the Iraq Intelligence Task Force. His honors included the Defense Intelligence Director's Award.
He was born in Jersey City and raised in nearby Weehawken and Paramus. He was a 1968 political science and economics graduate of Drew University in Madison, N.J., after which he spent four years as a Peace Corps volunteer in the western Brazilian state of Mato Grosso. He was named a Peace Corps volunteer of the year in 1971.
At Tulane University, he received a master's degree in political science with a focus on Latin American studies and also completed all but his dissertation for a doctorate. He was fluent in German, Spanish and Portuguese.
His avocations included real estate investment and property management as well as genealogy and the seafood cooking style of the coastal Carolinas. He had a house in Ocean Isle Beach, N.C., but his main residence was in Burke, where he was a member of the Catholic Church of the Nativity.
Survivors include his wife of 26 years, Blanca Rojas Raeder of Burke; three daughters, Jacqueline Hydock of St. Louis and Charlotte Raeder and Christina Raeder, both of Burke; a stepdaughter, Juliana Gellman of Portland, Ore.; a sister, Barbara Raeder of Wainscott, NY; and three grandchildren.