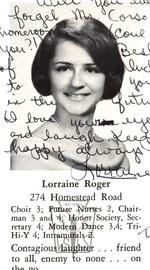 Lorraine R. Puzo, 66, of Middletown, died on March 23, 2014 in Wildwood Crest. She was born in Bronx, NY and lived in Paramus before moving to Middletown in 1973. Lorraine began working for NJ Bell in 1966 before leaving to raise her family. She returned to work in 1981, working for AT&T and Lucent until her retirement in 2010.
She will be happy to be with her beloved husband, Glenn, who predeceased her. She wrote: "Do not mourn for me. I am finally at peace."
Surviving are her 2 sons and daughters-in-law, Glenn R., Jr. and Michele Puzo and John R. and Nancy Puzo; sister and brother-in-law, Carolyn and Paul Maramaldi; grandchildren, Briana Kiernan, Nicole, Michael, Kyle, Glenn Patrick and Kelly Puzo.

Lorraine was preceded in death by her husband, Glenn R. Puzo; parents, Armando and Constance Roger and brother, Armando Roger.