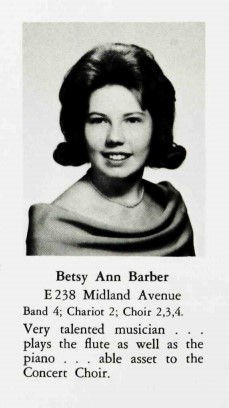 Betsy Ann Martin (nee Barber) 72, of 5217 Meadow Court, Scotrun, went to be with her Lord and Savior on Saturday (Feb. 22, 2019) at St. Luke's Hospital in Bartonsville, surrounded by her loving family.
Born April 27, 1947, in Smethport, she was a daughter of the late Lois J. Frair Barber who died Dec. 9, 2005, and the Rev. Wilber C. Barber of Bradford, who survives.
Betsy graduated from high school in Paramus, N.J. Betsy was employed after high school for several years as a dental assistant.
On Aug. 29, 1970, she married Roger G. Martin, who survives.
Betsy was a member of Victory Baptist Church. She was proficient in music, singing, and playing the flute, piano, and organ.
Surviving are her father, Wilber; her husband, Roger; one daughter, Jennifer Martin of Scotrun; one son, Gregg Wesley Martin of Lebanon; three grandchildren, Selena Martin, Dylan Martin, and Daniel Martin; and several aunts, uncles and cousins.
She was preceded in death by her mother; two sisters, Nancy L. Barber, who died March 13, 2008, and an infant sister, Judy Kay Barber in 1948.
Friends will be received on Friday, Feb. 28, 2019, from 9:30 a.m. to 11 a.m. in the Hollenbeck-Cahill Funeral Homes Inc., 372 E. Main St.; at 11 a.m., funeral services will be held with the Rev. Wilber C. Barber and Max Simms, pastor of the Hilltop Baptist Church, co-officiating. Committal services and burial will follow in McKean Memorial Park Cemetery, Lafayette.
Memorials, if desired, may be made to the Faith Baptist Church of Bradford, or a charity of the donor's choice.
Online condolences may be expressed at www.hollenbeckcahill.com
To plant trees in memory, please visit our Sympathy Store.
Published by The Bradford Era from Feb. 25 to Mar. 3, 2020.