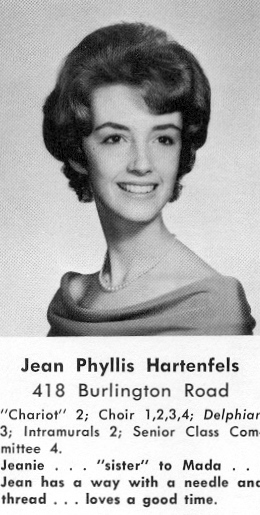 Jean Hartenfels-Cuttito (11/11/2013)
Jean Hartenfels), 68, of Paramus, passed away on Monday, November 11, 2013. Attending Montclair State University, she acquired three Masters Degrees. Before retiring, Jean worked for Bergenfield Board of Education as a Teacher for 30 years in the Art and Theater Department, being Awarded Teacher of the Year on three different occasions. She was a director and performer for the Paramus Scholarship Show for 25 years, and a parishioner of RC Church of the Annunciation in Paramus. Jean had many hobbies including cooking, quilting, knitting and gardening.
Cherished wife of Charles Cuttito. Beloved mother of Jennifer Hamdan and her husband Christopher Borrok of Brooklyn, NY. Darren Cuttito and his wife Jennifer, of Andover. Suzanne Krug and her husband James of Tafton, PA, Elizabeth Dietsch and her financee Christopher Power of Newark, and Robert Cuttito of Paramus.
Loving grandmother of Christina, Steven, Zachary, Kayla, Angelina, Jacob, Chester and Tyler. Beloved aunt of Robert Jaichner and his wife Alanna Lally of Springfield, John Jaichner and his wife Renee of Howell, and William Jaichner and his wife Gina Lally of Paramus. Predeceased by her sister Susan Jaichner. Also survived by her dogs Sasha, Luca, Vito and Farmington.