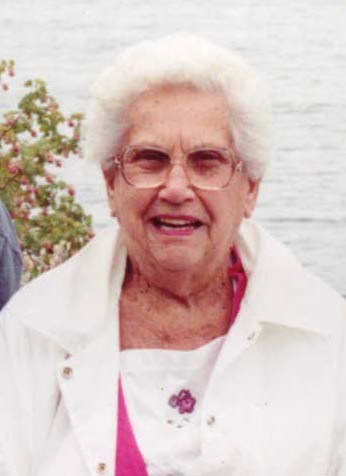 Hilda Landau
(05/10/2015)
Born and raised in Prospect Park to Josephine 'Ella" & Theodore Bruinsma. Her dad was the owner of an insurance agency where she worked after graduating from Central High School in Paterson. He was the founder of both the Prospect Park National Bank and the Prospect Park Savings and Loan. He was also the borough mayor and judge. He owned a bus line that ran from Paterson City Hall up Haledon Avenue. Hilda and her siblings Pauline and Ted were each given a nickel to use for a one way bus fare. They walked the other way. On nice days they walked both ways and saved the nickel….a lifelong trait for this Great Depression Era child.
Her father did whatever he could to provide for his family. A trained carpenter, he built a summer bungalow on the Ramapo River in Oakland – at the time a popular vacation resort. Hilda worked for $.10 per day walking horses or taking children for pony rides for the thrill at the end of the day of racing them back to the barn. S he worked for a man called 'Gyp'. One day a fresh 12 year old boy took her pony and as he rode off he fell off. Hilda laughed in revenge. She was an accomplished horsewoman and still rode on her brother's California ranch in her 60's.
A Tom-boy, she loved to swim and beat the boys at whatever they were doing. She developed a lifetime passion for dancing. First the 'Lindy' on the bungalow porch and then ballroom dancing to the Big Band sounds of Tommy Dorsey. Later in life as a widow, she danced several times per week for aerobic exercise. She swam her whole life; in the Ramapo River then at Ocean Grove, the Paramus Municipal Pool and lastly at her condo on the Gulf of Mexico – where she is still legendary for her daily swims.
In 1939 Hilda graduated from what today is Paterson State University with her degree in teaching. She then obtained a Masters Degree from Columbia University. She was only the second graduate to land a job during the Great Depression - in Harding Township. She later taught in Westwood, Prospect Park, Teaneck and at Farview/Hodges and Ridge Ranch Schools in Paramus.
During World War II she was a Civil Defense Air Raid Warden. A gutsy woman, her job was to stand in complete blackout darkness at key intersections to report any incidents and then boldly go up to people's doors to get them to close their blackout curtains.
In 1944 she married "that fresh boy" who took her pony when he returned decorated from combat in World War II. His name: Dave Landau. She was proud of her veteran husband who won the Silver Star in Italy. She honored our flag as a symbol of his and her generations and her son's military sacrifices. She joined her husband upon his return to the states at Camp Myles Standish; a U.S. Army POW camp located in Taunton, Massachusetts and gave birth to a son David in 1945.
Upon returning to Prospect Park she was a homemaker and then a Mom again to Douglas in 1948. In 1951 the Landau's moved to Paramus. She lived in the same house from 1951 until her death at home.
She joined her husband, Dave, in his insurance business receiving acclaim as a woman for getting her license. Unfortunately in 1963 she took over the business upon her husband's demise. She later returned to her first love: teaching reading in elementary school.
She massaged and worked with children with polio, taught ESL, was the President of the Veterans of Foreign Wars Post 6699 Ladies Auxiliary, taught typing to prisoners in the Bergen County Jail, belonged to the Paramus & Oradell Woman's Clubs, was a Girl Scout leader and a Cub Scout leader, assisted AARP Seniors with their taxes at the Westwood Library and in Bonita Springs, Florida. She was a co-founder of AARP Senior Chapter 3834, Charter Member of the Paramus Congregational church where she taught Sunday school and was the first to pledge to build the new building. She loved to travel and drove across the United States three times and flew cross country a dozen times visiting every state and 15 countries. The first time she drove cross-country was with her 16 and 14 year old sons.
She enjoyed reading and gardening but most of all she loved her sons, special friends Jen, James & Karen and nieces and nephews and great-nieces and nephews and a host of friends.
Her son Doug says Hilda asked him his most cherished moment and he replied there were two: climbing up on her lap and having her read Grimes Fairy Tales and Bible Stories to him and her standing on the sidelines all alone in an early October snowstorm watching as he played Paramus High School soccer.
---
From Her Sons
Our Mother, Hilda Landau passed away this afternoon in her home in Paramus, New Jersey. What a great last few weeks for her- so many family and friends called, came by or sent beautiful cards. At 97, 4 months short of 98...she lived a very full life.
Her passion was teaching children to read and she was known as a task master but some kids who had difficulty learning came back to visit her years later to thank her for helping them learn to read.
As a young woman she was a swimmer (kept that up in Bonita Beach, Florida in the Gulf of Mexico) golfer, world traveler, ballroom dancer, & horseback riding. In 1962 she drove with her two boys to California- in those days we had no air conditioning and we kept a water bag on the front of the radiator as well crossed the desert.
She would deny she was a 'feminist' but she did things well ahead of her time that stopped others - A Master's degree in Education from Columbia University when many were glad to finish high school. A businesswoman who took over my father's business when he died. Want something done- tell her she couldn't do it. She led Girl Scouts and Cub Scouts, Veterans of Foreign Wars Auxiliary and the Paramus Women's Club ...played the kazoo in the Beach Birds band that visited the nursing homes, helped start the Paramus Congregational Church and assisted seniors with their taxes. Among her favorite tales was a Civil Defense Volunteer during World War II
Thank you to all her many friends for bringing joy into her life and friendship to her heart.