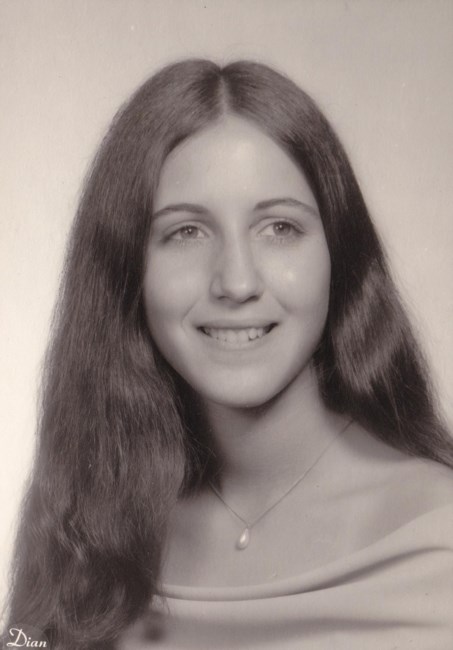 Judith Ellen Plump Fraser
Judy was the firstborn child of Benjamin and Delores Plump, born May 2, 1956. As the oldest child, Judy was a protective and caring sister to her two younger siblings, Wendy and Richard. Growing up on Mazur Ave, in Paramus, New Jersey, Judy was the happy and confident child now remembered fondly by many friends. Whether it was mastering the flute and the guitar, winning multiple cheerleading competitions, or maintaining high academic success, Judy never settled for mediocre, determined to give one hundred percent of herself.
Looking back at his younger years with his sister, Richard remembers Judy as the kind of sister who never excluded him when her many friends were around. She always welcomed him into the group, and never made him feel as though he were an annoying little brother. Judy supported Richard in all his endeavors, and when others sought to bring him down, she would build him back up, helping him to believe in himself.
In high school Judy was co-captain of her cheerleading squad, which became an integral part of her early life, making lifelong friends with fellow cheerleaders, most of whom still reside in northern New Jersey. There are many pictures of Judy exuding her love for life, however Chuck's favorite appears in her Paramus High School yearbook in 1974. Here she is pictured kicking along like a Rockette beside her co-captain Nancy. Her hair is flying, and her smile epitomizes the confident, courageous, and caring Judy that he would come to know.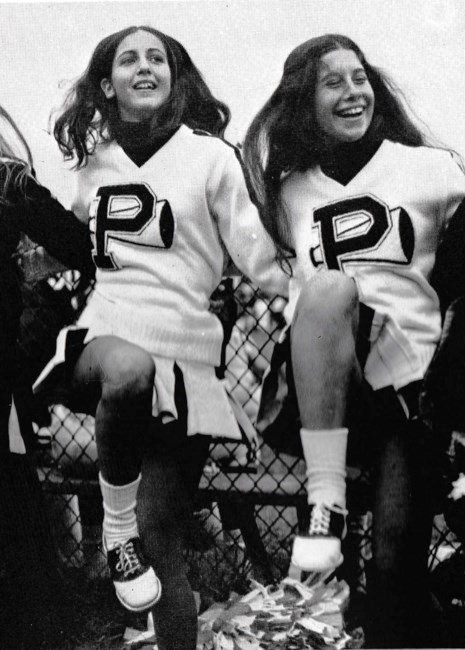 Judy graduated from high school with honors in 1974 and set her sights on Rutgers University. She would spend the next four years majoring in business and economics. Judy graduated from college in 1978, again with honors, and a membership in Phi Beta Kappa (the most prestigious and oldest honor society in the United States). In early summer of 1977, Judy and Chuck met at the freshman orientation for Rutgers University. Judy oversaw all incoming freshman for the fall semester, and Chuck was one of her team leaders.
During their first summer together, Judy spent several months studying in France, while Chuck spent that summer writing her long letters and waiting for her to come home. They began dating the fall after she returned and were soon married at the First Presbyterian Church of Perth Amboy, in 1979. They continued to live in New Jersey, while Judy commuted to her job at Citibank near Wall Street in New York City, and Chuck worked as a hospital pharmacist in Ridgewood, New Jersey. While developing her successful career, Judy ambitiously pursued her MBA in Accounting at Stern Business School, at New York University. She graduated in 1981 and passed the notoriously difficult CPA exam for the state of New York.
By 1981, Judy was on the fast track to success as a corporate accountant. For the next seven years Judy worked for Ernst and Young completing tax work, and quickly rose to a position as a Senior Manager, specializing in international corporate tax. With Judy doing so well in her professional life, and Chuck working as a hospital pharmacist, they decided it was time to move and begin their family.
Settling in Cranford, New Jersey in 1983, they would spend the next 25 years living, working, and raising their two children; their son Colin, born in May of 1988 and their daughter Blaire, born in December of 1990. Colin is now an attorney working for the state of Florida and lives in Tallahassee with his wife Sydney. Blaire works in marketing in Raleigh, and lives in Southern Pines, North Carolina, with her husband Griffin.
While raising their children, Judy continued to thrive in her career and continued to reach new professional heights. She eventually left Ernst and Young to lead the tax and accounting department for Louis Vuitton Moet Hennessy in New York City, where she was promoted to Vice President of Tax in 1990, the same year her daughter was born. In 1993, Judy left Louis Vuitton Moet Hennessy and accepted a job as Vice President of Tax and Payroll for L'Oréal so she could work in New Jersey and be closer to her children.
In 1998, Judy was diagnosed with stage three ovarian cancer. After several years of battling the disease, and against all odds, she managed to beat the cancer. She left L'Oréal to open a consulting firm where she would have the benefit of working from home and spending more time with her family. Judy officially retired from her professional career in 2008, but her work didn't stop. She was a wonderful and loving mother, fierce protector, and strong advocate for Colin and Blaire. She was present for every concert, school play, graduation ceremony, and major milestone in her children's lives, cheering them on and giving them unending love and support. After she stopped working, she loved to volunteer for the local community theater, managing the props and building relationships with all the participants.
After many years residing in Cranford she and Chuck moved down the Jersey Shore to Cape May Court House. Judy became a proponent of adopting dogs and supporting the local animal shelter in Cape May County. In 2017, Judy was diagnosed with stage four colon cancer. Just as she faced all challenges in her life, she faced this challenge with courage and determination. Unfortunately, on July 2, 2019, her life was cut short as she passed quietly in her sleep. She took her final breath surrounded and supported by her loving husband Chuck, her brother Richard, her son Colin, her daughter-in-law Sydney, her daughter Blaire, her son-in-law Griffin, and her dog Barley.
"Judy Plump was a wonderful mother and wife. She was, in addition, a superior business professional rising to the top of her profession during a time when few women reached such levels of authority. Judy had many friends from her past from Paramus of whom I have had the pleasure of speaking with recently. Her friends from Cranford and the Jersey Shore have reached out providing kind words and prayers. The fondness felt for Judy by so many is a testimonial to the loving, caring life she lived. I am forever grateful that I had the courage to ask Judy out on a date at Rutgers University so many years ago. She has been the love of my life and I will miss her dearly." – Chuck Fraser