Paramus High School
Home of the Spartans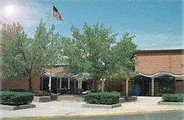 In Memory
Janet Elder - Class of 1974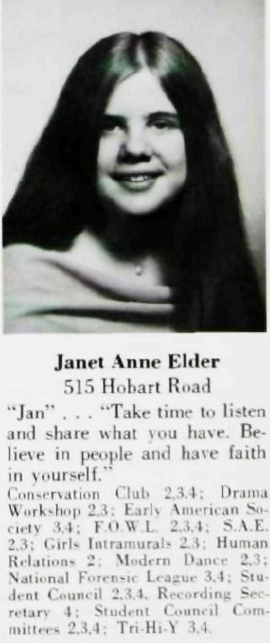 ---
Janet Elder, a Top Editor at The Times, Dies at 61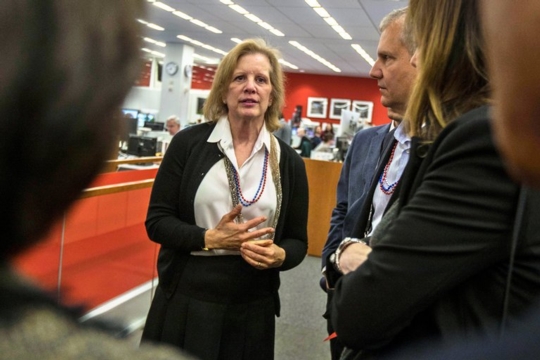 Janet Elder, who in a three-decade career at The New York Times rose from reporter to deputy managing editor, along the way spending many years as the editor of news surveys and election analysis, died on December 20, 2017 in Manhattan. She was 61.
Dean Baquet, the executive editor of The Times, announced the death to the staff on Thursday morning. Ms. Elder, who lived in Manhattan, had been undergoing treatment for cancer and died at NewYork-Presbyterian Hospital.
Ms. Elder became one of the highest-ranking women in the Times newsroom, in charge of the administrative side of the news operation. But colleagues cited an unofficial role as well, as chief counselor, hand-holder, fixer and sympathetic ear to the rest of the staff.
Her office was a place to come to gripe, gossip, ask for guidance and more, said Matthew Purdy, another deputy managing editor at The Times. "It was really her humanity that made her a central part of the newsroom," he said. Her responsibilities as deputy managing editor included staffing, career development and, several times in recent years, buyouts and layoffs.
One duty was trying to make sure staff members overseas had the resources to do their jobs and were safe. That could be difficult, as it was in August 2014, when Alissa J. Rubin, a Times reporter, was seriously injured when a helicopter she was aboard crashed in the mountains of Iraq. "Janet was just amazing at marshaling resources to get her out of there," Mr. Purdy said.
Mr. Baquet called Ms. Elder "one of the newsroom's most important leaders, and an advocate for women at the top of the masthead." Carolyn Ryan, an assistant managing editor, echoed that thought. "Part of Janet's gift was nurturing women here," she said, "and I certainly felt that very personally."
Ms. Elder was born on July 6, 1956, in Poughkeepsie, N.Y. She received bachelor's and master's degrees at New York University. She was hired by The Times full time in the mid-1980s after working at the Children's Storefront, a tuition-free school in East Harlem.
But Adam Clymer, a retired colleague who once led the paper's polling operation, said her first involvement with the paper was actually much earlier, as an interviewer on the first CBS News/Times poll, in 1975. "We hired freelance interviewers, mostly students or unemployed actors," he said.
Once she joined the staff and turned to reporting, her early articles often showed her interest in social issues. She wrote about child care and parental leave, for instance, and adults with intellectual disabilities.
By the mid-1990s she was increasingly writing about poll results, examining the public sentiment on issues like the verdict in the murder trial of O. J. Simpson, the sex scandal involving President Bill Clinton, and candidates and issues in presidential elections.
Many of these articles translated the results of CBS News/New York Times polls, which were among the most highly regarded in the polling industry. She frequently shared bylines with Times political reporters on articles about how the public viewed specific elected officials, the fight against terrorism, same-sex marriage and numerous other subjects.
Ms. Elder, who was named the head of the polling department in 2005, occasionally wrote explanatory articles about survey-taking, expounding on matters like how the timing or structure of a poll might influence the results. And she had an eye for the odd or incongruous finding that might turn up in a survey, as in 1997, when she wrote about a CBS/Times poll on driving habits.
"In the poll, men and women said they would rather be a passenger in a car driven by a man," she noted, "although both men and women said the safest drivers were members of their own sex."
In 2000, Ms. Elder designed a national survey that was part of the Times series "How Race Is Lived in America," which won the Pulitzer Prize for national reporting.
Ms. Elder was made an assistant managing editor in 2011 and a deputy managing editor in late 2013. The next year she became a driving force behind the creation of The Upshot, the Times's data-driven reports that analyze political, economic and social issues and trends.
In September, Ms. Elder was chosen to lead an effort to explore partnerships between the newspaper and philanthropies or universities to further journalism in various forms.
She is survived by her husband, Rich Pinsky, whom she married in 1985; their son, Michael; a brother, William; and two sisters, Louise Pozzuoli and Barbara Clark.
In 2010, Ms. Elder made her cancer diagnosis and the related tale of a newly acquired family dog the focus of a book, "Huck: The Remarkable True Story of How One Lost Puppy Taught a Family — and a Whole Town — About Hope and Happy Endings."
The book is a generally uplifting tale that concentrates on the search for the dog, Huck, after he becomes lost. But Ms. Elder, ever the reporter, also included some blunt passages about her medical journey. She was annoyed, for instance, by the pink décor in the office in which she was undergoing a biopsy.
"There is something demeaning about all that pink," she wrote. "Cancer is not pink. Cancer is serious business."