Paramus High School
Home of the Spartans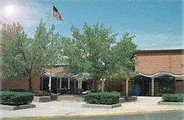 In Memory
Russ Sherman - Class of 1972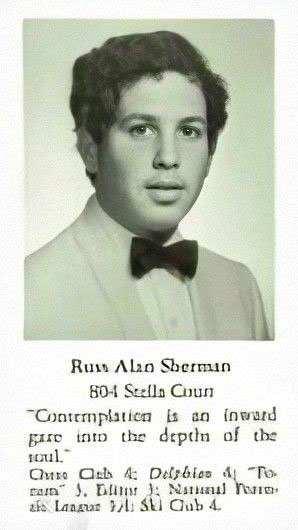 Russ Alan Sherman, born January 18, 1954 in NYC, son of Natalie Podolsky Sherman and the late Mark Sherman, died September 11, 2014 of pancreatic cancer after an illness of three months.

Russ is survived by his wife Susan Goldberg Sherman, son Scott M. Sherman, son Matthew A. Sherman and daughter-in-law Laura N. Sherman. He is also survived by his brothers, Gary Sherman, his wife Michele, Robert Sherman, his wife Lois, sister-in-law Gail Sherman and several nieces and nephews. He was preceded in death by his brother Jeffrey M. Sherman.
Russ attended Ramapo College and graduated from Boston University with a degree in political science. He also obtained his paralegal degree. He started his career in NYC in insurance and pension sales and last worked in retirement education. He was a CLU and CFP.
Russ and Susan married in 1981. Scott and Matt joined the family in 1983 and 1985, respectively, and in 1990, the family moved from New Jersey to Charlotte.
Russ was involved in his kids' lives. Despite having a heavy travel schedule at work, he was able to serve as their Scout leader and their T-ball and soccer coach. He came from a large family of four boys, with eleven cousins close by, and family get-togethers were central to his life growing up. It was important to him to continue that tradition with his kids.
Russ was an outgoing man who could, and would, talk to anybody. He was a charismatic public speaker, sometimes surprising people with his dry and unexpected sense of humor. He loved to make people laugh in all of the many roles he played during his life.
Russ loved to ski, hike, and ride the rails-to-trail routes on his bike with Susan. He particularly liked the national parks, both here and in Canada, and while he faithfully followed Susan's itineraries on foot through Jerusalem, Barcelona, Florence, and other overseas destinations, his favorite thing was to be outdoors enjoying nature.
Russ was interested in politics and campaigned for President Obama. He always liked to hunt down the latest electronic equipment and couldn't resist trying to influence his friends to buy the same. Every year he vowed to have a green lawn and he enjoyed the challenge. He liked woodworking and built the stone patio at his house from his own design.
In his down time, which never lasted too long, Russ liked to sit on his deck and listen to the oldies from the '60s and '70s. At the beginning of his illness, he lost his second true love and walking companion, his 14 year old dog Eddie.
Having had the opportunity to know his kids as the young men they are today, Russ felt very proud of them and felt that he had accomplished what he wanted to accomplish in raising them.
Russ will be cremated and his ashes will be scattered by his family in the mountains.