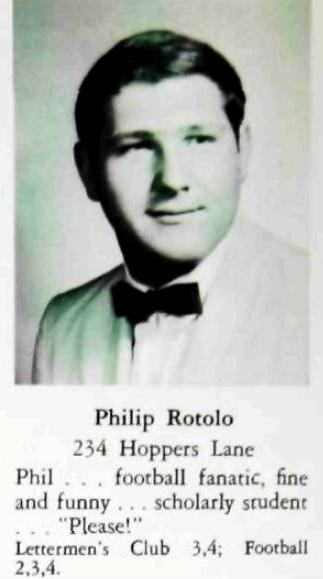 Philip A. Rotolo, age 63, of

Toms River

, NJ passed away Wednesday, Nov. 14, 2012 at Community Medical Center Van Dyke Hospice. Born in Passaic, Philip lived in Paramus, before moving to Toms River 30 years ago.
Philip was a special education teacher for the Freehold Board of Education for 15 years, until his recent retirement. He is a parishioner of St. Luke Roman Catholic Church, Toms River, NJ.
Philip is preceded in death by his father, Anthony Rotolo; sisters-in-law, Rowena and Catherine Rotolo. He is survived by his wife of 42 years, Nancy Rotolo; his mother, Concetta Rotolo; his son, Thomas Rotolo; his daughter, Jan Rotolo and her fiancé, Lloyd Sloan; three brothers, Sal (Class of '62), Michael and Donald Rotolo and his wife Maria; three grandchildren, Trent Roma, Makayla Roma and Mason Sloan; several nieces, nephews and cousins.