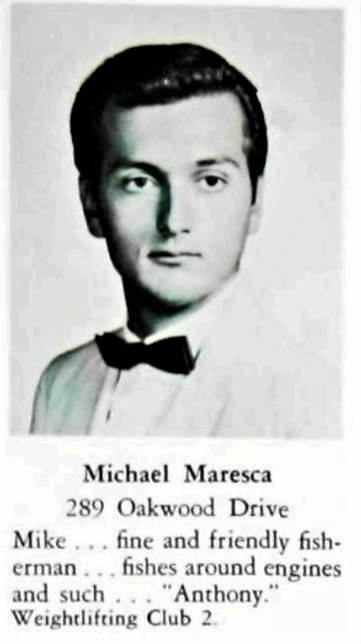 Michael Maresca "Mike" was a modest man, quiet and observant in his ways. He was trustworthy and traditional in his approach to his life and in his relationships. He was tough-minded with the kind of "stick to it" attitude that earned the respect of all who knew him. He was also a man who was meticulous, carefully disciplined, and orderly in virtually everything he undertook. Realistic about life, he was always at the ready, prepared to take on responsibility.
Mike was born on March 7, 1949 at Margaret Hague Hospital in Jersey City, New Jersey. His parents were Salvatore and Mary Maresca. Mike was raised in Paramus, New Jersey. He was brought up to be self-confident and dependable. These were traits that would serve him well throughout his life.
Growing up in the Maresca household was a bit different than most homes. There were good times to be had, but just as often there was a fair share of challenges as well. However, Mike was able to work through the usual family problems when they appeared, and he was the one person in the family who seemed able to keep the stress at bay. Mike was raised with two siblings. He had an older sister, Marie and an older brother, Joe.
As a young child, Mike was never someone who needed to be the center of attention. He wasn't pushy and never forced his way into games or other activities. Mike developed a variety of interests, though; and the things he enjoyed doing he did well. He was always curious about the world around him and was often eager to explore it. In his spare time he liked helping his father in his gas station.
Mike faced an extreme tragedy when he was severely burned at the age of nine. His doctors suggested his arm be amputated but his loving mother refused. He was hospitalized for a month and missed nearly an entire year of school. He was able to keep up with his classmates due to the dedication of several teachers who tutored him personally while recuperating at home. Eventually, after several skin grafts and therapy, Mike regained full use of his right arm.
While his teachers and even his friends generally thought of Mike as being a serious person, he managed to have a pretty good time in high school as he made that critical transition from adolescence to adulthood. He graduated from Paramus High School in 1967. He enjoyed some courses more than others, having favorite classes and teachers. His favorite class in high school was Electronics. Mike was a very logical person who enjoyed learning about factual information. Mike always seemed to have a command of the facts and was able to make it seem as though he could easily master any problem that might be presented to him.
College life brought with it a new set of challenges, but Mike handled them well. The ability to efficiently complete the task at hand was a skill that served him well during his college experience where he earned his Bachelor's degree. His favorite course was computers. He completed a two year degree while working a full time job.
Always considered to be a solid friend, Mike was fortunate to have numerous acquaintances and several very close friends during his life. Since he disliked making generalizations about people and preferred to draw his own conclusions based on direct observation, Mike was able to see beneath the surface of relationships and became a true friend to those who knew him. He was committed to his friends and valued the trust he placed in them. It was not uncommon for Mike to go beyond the call of duty for others, and friends frequently sought him out for advice because he had a knack for coming up with practical solutions to any type of dilemma. Later in life, he became friends with Henry and Donnie Uretsky.
Mike married Donna Gordon on April 11, 1987 at Wayne Manor in Wayne, New Jersey. He instantly became a father to 11 year old Kimberly. On their wedding day she asked him if she could call him Dad. Mike cried and he became her father from that day forward.
Mike brought the same traditional values in his marriage to bear on how he raised his daughter. He was a good parent to her, always calm yet fair in his dealings. He would always listen carefully and think things through before he acted, even when it was an adverse situation. Upon his marriage, Mike and Donna purchased a home in Hackettstown, NJ where they lived for twenty-six years. There he also lived with his In-Laws, Harold and Eleanor Gordon. Mike was also a walking schedule, always seeming to know what everyone in the family needed to do, where they needed to be and when they needed to be there.
Mike greatly enjoyed what he did for a living. He was a hard worker who expected the same in return from his co-workers. He was skilled at working effectively in small groups and in one-on-one situations as well as handling solo assignments efficiently. Mike enjoyed dealing with concrete ideas and could penetrate any amount of fuzzy information to reach the essential facts. Always able to attend to the task at hand, Mike was excellent at meeting deadlines. He was an efficient worker, one who paid careful attention to detail, allowing sufficient time to complete one task before moving on to the next. His primary occupation was as a service manager in the automobile industry. Michael loved anything car related since childhood being brought up as a young boy in his father's gas station. Mike worked hard to be a team player, doing what was necessary in order to get the job done.
Mike was an Army Veteran. He spent time in Germany and Vietnam, and saw action in Vietnam. Through his hard work and dedication, he achieved the rank of Sergeant. A literal thinker who possessed a calm exterior, Mike seemed to enjoy the routines set forth by the military. His results-oriented approach to things made him committed to the job, and he understood well his role in serving his country.
Mike liked to experience things first-hand as well as learn about them. This trait carried over into his hobbies, where he was very methodical in how he organized his activities and categorized things. Since he enjoyed his private time, Mike always tried to allocate a specific time for working on his hobbies. His favorite pursuits were computers, playing all card games, gardening and photography. Mike was content to enjoy his hobbies alone but was also willing to share his interests with others.
Mike couldn't be prouder to be a Grandfather. That feeling started the day he was told he was going to become one. His pride and love continued and exploded on the day Kyle was born. He shared endless time with him and gave him his undivided attention. These traits never stopped. Nothing was too much for him to share with Kyle. Just sitting down to play a game of cards or play ball with him gave him great pleasure and pride. He also enjoyed vacationing with Kyle on a cruise, Disney World, the Jersey shore, touring the western United States and even Hawaii.
Many organizations were grateful to have Mike as a member, since he always brought with him a "stick to it" attitude and a high degree of common sense. Using straightforward methods to successfully complete the job, Mike was a great planner who was incredibly well organized. It seemed that he was able to schedule any event or activity with ease. He always seemed to know exactly what needed to be done. Throughout his later years, Mike was an active member of the Bocce Club, Bowling Club and Bunco Club.
Mike enjoyed traveling and taking vacations. Since he was an early starter and had a knack for planning everything, traveling with Mike appeared effortless. He enjoyed researching all of his examined options and applying cost-effective planning techniques. Favorite vacations included traveling to Las Vegas while living in New Jersey, Italy, Greece, Alaska and Hawaii.
Mike sought out practical solutions, not individual recognition. He was always grounded and objective, feeling a strong sense of responsibility for taking care of what needed to be done. This selfless attitude earned Mike many accolades for his efforts and achievements. In young adulthood, he bowled a perfect (300) bowling game which earned him a ring for this accomplishment.
When Mike's retirement finally arrived in 2011, he was well prepared. He always trusted and placed value in what was logical and in the things he knew, so he was very confident in planning his retirement. He had begun the process early and had his retirement all laid out well in advance. His new life involved relocating to Henderson, Nevada with his wife. In retirement, he rekindled his love of bowling by joining two leagues. He also served as captain of three bocce teams in his community. He was a member of the winning bocce team for three tournaments with his team which consisted of his wife along with Donnie and Henry Uretsky. Even in retirement, Mike made plenty of new acquaintances. He was active in his new community and felt fulfilled.
Mike is survived by his wife, Donna; daughter, Kimberly Silverthorn and her husband Daryle; grandson, Kyle; sister, Marie Hanson; several nieces and one nephew. Services were held at Palm Mortuary Boulder Highway. Mike was laid to rest in Southern Nevada Veterans Memorial Cemetery.
Commitment is a key word that can be used to describe the life of Michael Maresca. He was committed to living the life of a good man who was both practical and trustworthy. He was committed to the traditional values that he upheld his entire life. He committed himself to being a hard worker who expected the same effort in return from those around him. Most of all, he was committed to those he knew and loved.