Athletic Hall of Fame
November 12, 2009 marked the inaugural induction of Paramus' elite athletes into the Athletic Hall of Fame. Coaches, teams, and individuals were recognized, as well as a "Special Award" to honor "Pops" Tashian for his decades of support. A longtime supporter of female sports, he was proud to be included in this first round that included Paramus' female athletes. When in 2007 "Pops" was honored by having the "Most Inspirational Softball Player in Bergen County" named after him, he spoke at some length about the virtues of Title IX, and the opportunities it afforded talented female athletes.
Women's sports have come a long way since 1958 when the high school first opened. Back then, girls only played field hockey in silly one piece gym suits. There were no organized sports for women, not even intramural sports.
Thank goodness for Patsy Mink, the Senator from Hawaii who sponsored the "Patsy T. Mink Equal Opportunity in Education Act," AKA "Title IX." It's no coincidence that this important piece of legislation bears her name. Without this landmark piece of legislation that was voted into law in 1972, we would not have the likes of Danielle Baraty (Class of 1989), Christine Menasian (Class of 2001), Maria Elena Di Pasquale (Class of 1989), Diana Schraer (Class of 2004), Maria Devita (Class of 1976), and Lauren Cacciamani (Class of 1996).
---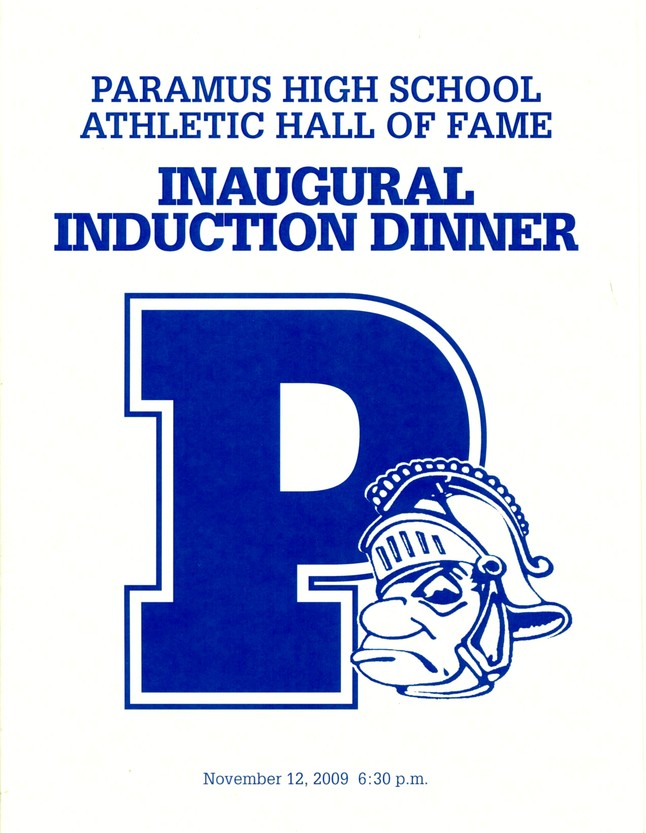 Click Here for the Entire 2009 Program
---
2009 Inductees
---
Coaches
John DeGasperis - Football
Herb Hoeland - Basketball
Constance Story - Volleyball
Special Awards
Team Awards
1962 Football Team - NNJIL and Group III State Champions
Individual Awards
Richard "Chico" Schiesswohl ('63) Football - Soccer - Baseball
Gerry Giampetruzzi ('64) Football - Basketball - Baseball
Robert Mulcahey ('65) Football - Baseball
Rick Holdt ('69)

Football - Basketball - Baseball
The 1962 Spartan football team was NNJIL Champions, and Group III State Champions. Also honored was the 1995 volleyball team that amassed a 25-0 record on their way to becoming NNJIL and Group III State Champions. Clearly, they kicked some butt.
Also inducted were Neil Hanley - Wrestling (Class of 1982), Richard "Chico" Schiesswohl - Soccer (Class of 1963), Gerry Giampetruzzi - an all-round GREAT athlete (Class of 1964), Bob Mulcahey - a truly gifted all-round athlete (Class of 1963), Rick Holdt - Basketball (Class of 1969), Trey Bauer - Football (Class of 1983), Mike Brown - Football (Class of 1976), Maria Devita - Softball, Basketball, and Soccer (Class of 1976), also inducted into Georgetown's Athletic Sports Hall of Fame, Lauren Cacciamani - Volleyball (Class of - 1996) and Michael Bassett - Baseball (Class of 1998).
Coaches inducted included Coach Lou Lanzalotto (posthumously), a gifted track coach and an amazing human being who touched many lives, Coach Herb Hoeland, the coach who patched together a group of scrappy undersized kids and took them all the way to Atlantic City for the state final, Coach John DeGasparis (and Athletic Director for many years) a coach loved by all, Coach Bob Kingsley (won all the titles in baseball in 1964, and would be in 2013), Coach Ernest Unger (the smartest coach I ever met...a tie between him and Mr. Stefaniak who never coached varsity sports), Coach Constance Story (probably will remain one of the most successful volleyball coach in Spartan history), and "Pops" Tashian for his dedication and love of Paramus sports programs and ALL the kids he knew and coached. If you don't know Pops, click on the links below for some background.
http://blogs.northjersey.com/blogs/varsityaces/comments/umpires_dinner/
http://www.northjersey.com/sports/116378734_Spartan_grapplers_honor_an_ardent_supporter_.html
---
2011 Program
---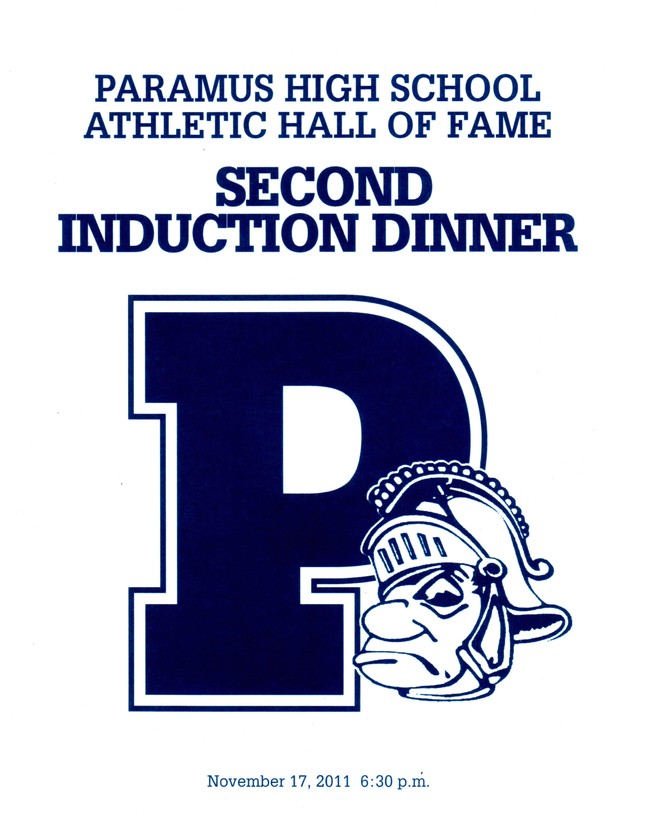 ---
2011 Inductees
---
The 2011 inductees include:
1963 Basketball Team. What a ride it was in 1962-63, watching an unlikely undersized group of kids coached by the recently departed Coach Herb Hoeland and Coach Bob Kingsley. They faced the likes of Hackensack and Englewood who had high school phenom Ron Orem, but they won when it counted. Lew Halpern was a key factor in getting his team to the state finals and was inducted in this round. Jeff Perry was the "leader-play maker" and in my mind the unsung hero who was "Mr. Clutch." Dennis Martinez and Coach Hoeland were surely looking down from heaven, and patting each other on the back for a job well done.
1979 Wrestling Team. This team was coached by Bill Savage, a one of a kind, creative, and driven coach who inspired kids to better their best. This team won NNJIL and State honors and drew thousands to the gym, unheard of in the history of Paramus wrestling. They went 16-0 that year, a record that still stands and surely will endure.
1989 Softball Team. Coached by John Skorski and Jack Weaver (Class of 1965), this team were Section I - Group III State Champions, State Group III finalists. Tri-captains Danielle Baraty, Melissa Laganella, and Maria Elena Di Pasquale (newly elected Paramus Council Woman) led the team to a 25-5 record.
Danielle Baraty - Basketball, Soccer and Softball (Class of 1989). Lew Halpern may have scored 1,000 point during his basketball days at PHS, but so did Danielle. Just read her bio below and it will become clear that she was a very exceptional athlete/scholar, not just in high school, but at the collegiate level as well. Clearly, Danielle is the "real deal."
Lew Halpern - Basketball (Class of 1963). This guy could shoot. When the ball left his hand you just knew it would be good. Always soft-spoken, never an ill word spoken of anyone, and one who accepted defeat as graciously as he did victory. A true gentleman. His dad was there and beat out Pops as the oldest attendee (97 vs. 96).
Christine Menasian - Softball and Soccer (Class of 2001). A "crowd" showed up, albeit somewhat unruly (just kidding) to cheer her induction as well as a deservedly so pair of proud parents. She was, and is, truly "spectacular!"
William "Billy" Henderson - Baseball and Football (Class of 1960). I was a kid when I first watched Billy playing infield on my father's Babe Ruth team. He was probably 15 and I was perhaps 11, yet the memory endures. He had speed and agility...he was poetry in motion. In those days, Paramus was barely recognized as a sports presence, so for someone from the "Paramus Farmers" to be even mentioned in the same breath as powerhouses like Hackensack and Ridgewood was an achievement in itself. I nominated Billy, and was pleased to hear that the committee approved my recommendation.
Joseph "Joey" Leicht - Baseball, Basketball, and Football (Class of 1970). Another one of those brains and brawn athletes who was/is respected and well-liked by coaches, teammates, and everyone who meets him. His coaching record speaks for itself. No doubt he has made, and will continue to make the kids he coaches winners in life as well as winners in sport. You will hear more about Joey Leicht as he surpasses coach's records not just locally, but nationally. Good Luck!
Ron Speirs - Track and Cross Country (Class of 1970). This is one kid I would like to have watched run. An ardent track and field fan, I enjoyed watching George Downs (Class of 1962) Ray "Firpo" Pompillio (Class of 1963) and Kenny Finlay (Class of 1964) run down opponents in the distance races. Ron represents what I classify as a "modern athlete" not to be compared with the best of those of earlier times (no pun intended). Ron was a natural. His post college 3:56.09 mile speaks for itself....WOW! See his bio below.
Rich Rothschild - Track and Cross Country (Class of 1975). Another great "cinderman," Yes, I know that's a term from when dinosaurs roamed. A Rothschild-Speirs race would have been something to behold. It's great that PHS still recognizes distances in yards, half mile, and mile to ensure that Rich's records are permanently etched into the record books of Paramus High School.
Victor Di Pasquale - Soccer, Basketball, and Baseball (Class of 1989). Vic was the kind of athlete who probably could have played any position on any team and been successful. Size, speed, and agility are not attributes or skills that can be learned or developed. In the final analysis, it's all about genes and attitude. He can thank his parents for the genes. The attitude part of his formula for success can be attributed to his coaches and, well, it's just one of those unknowns that transform some athletes from good to great. Vic had it.
Maria Elena

Di

Pasquale - Volleyball and Softball (Class of 1989). Maria Elena shares the same genes as brother Vic, so it's no great surprise that she was destined to become a great athlete. She had, and still has it all; brains, beauty, and a keen sense of humor. This was recognized by the citizens of Paramus who voted her Council Woman in November 2011. She returned to Paramus High School as a member of the faculty and became as instant success as the volleyball coach, and has been widely recognized as an outstanding high school volleyball coach. Being a great player is one thing, being a great coach requires even more gifts than athleticism. She brings the best of everything to the party. Paramus is fortunate is still have her and her family still in the fold.
Diana Schraer - Soccer and Softball (Class of 2004) - Diana could throw the ball. Heat and control was her formula for success. Read below and her records speak for themselves. If you are not a sports fan, and don't fully appreciate her numbers, Google what an ERA is and marvel at Diana's 2003 ERA of .034. All I can say is, "Mind blowing!"
---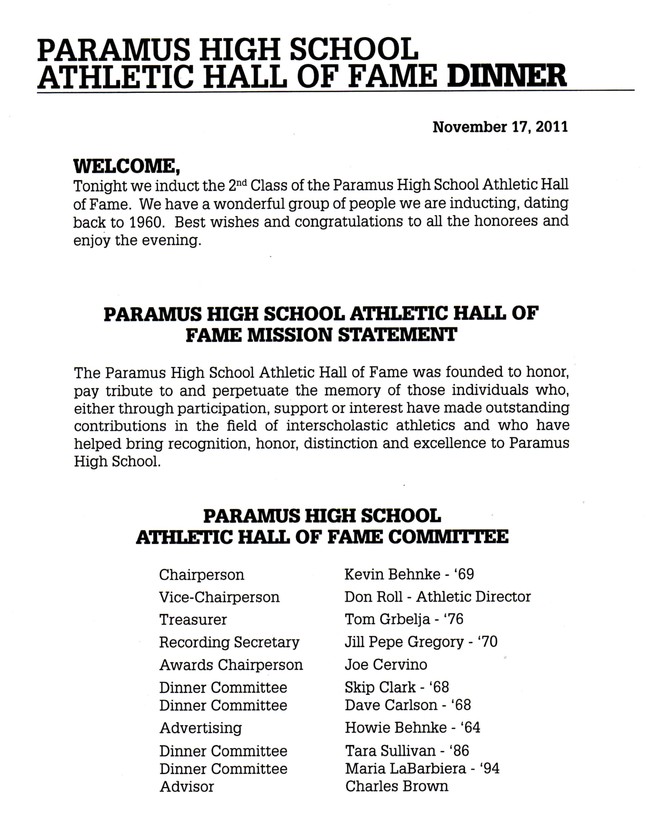 ---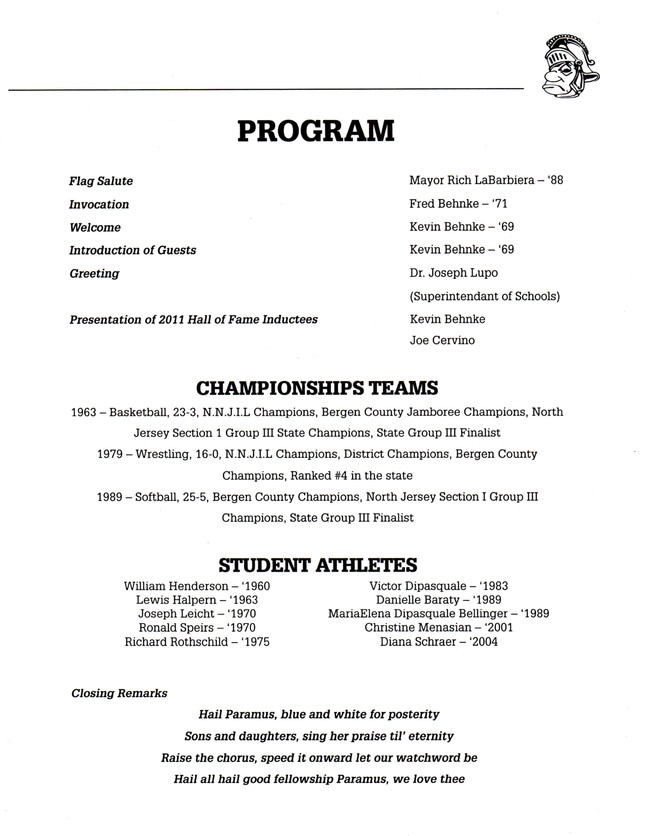 ---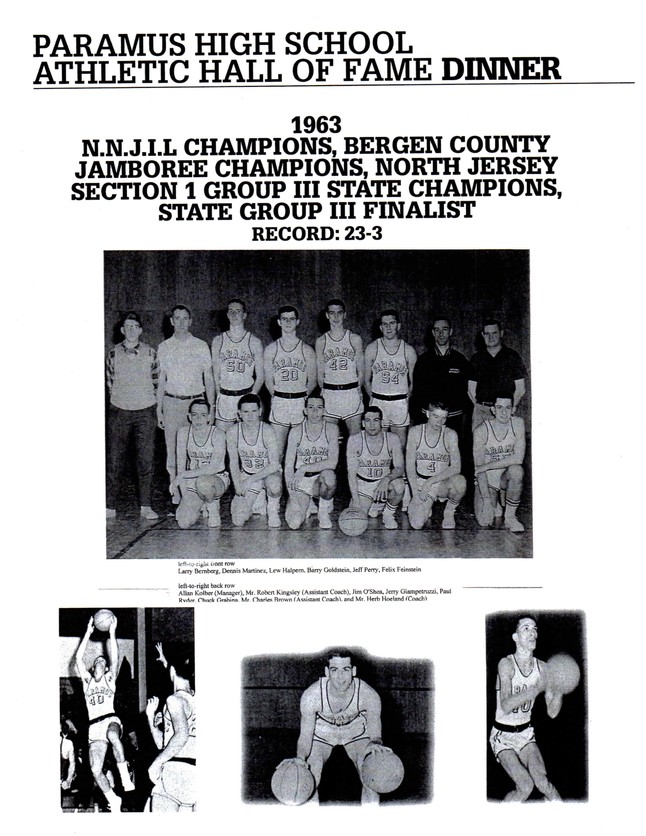 ---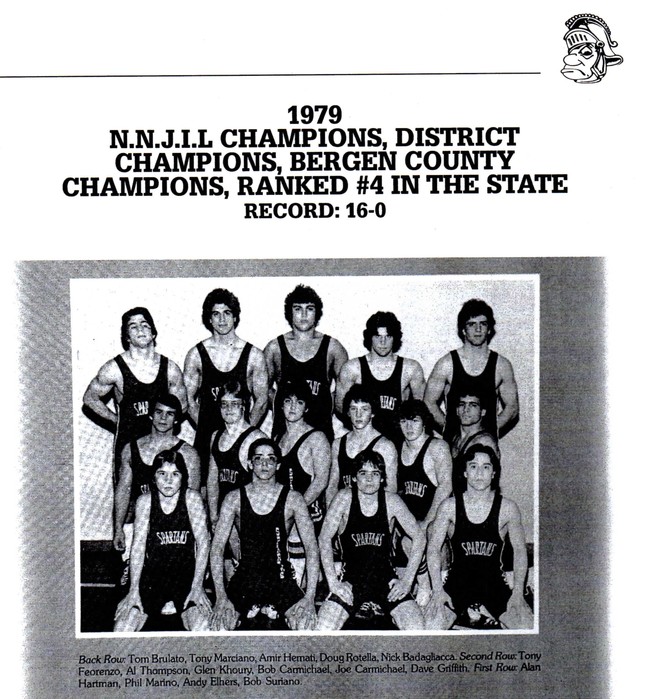 ---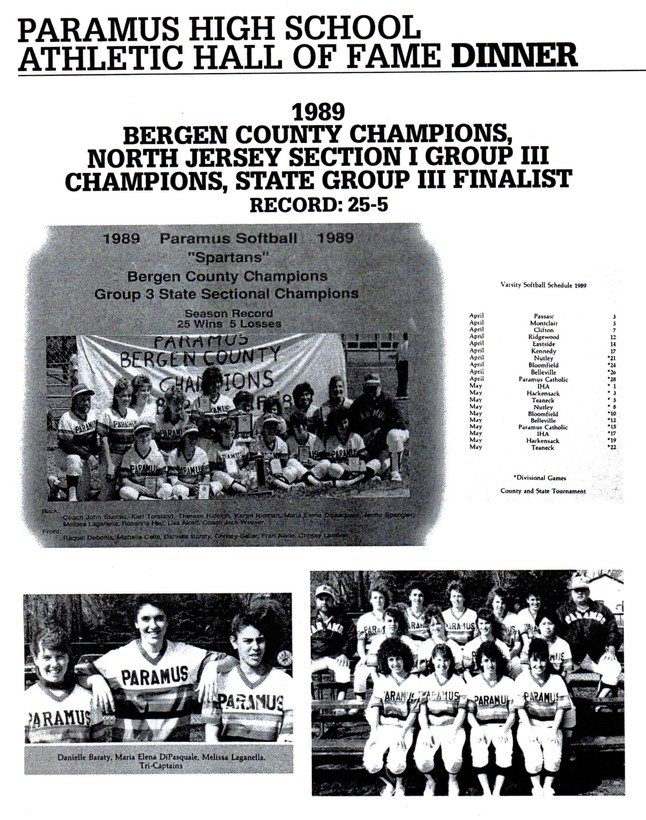 ---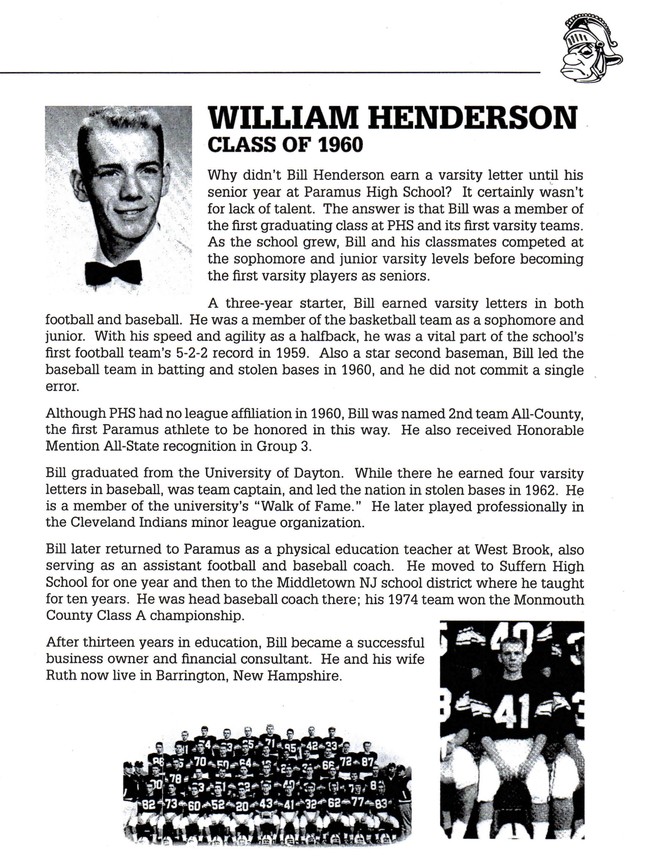 ---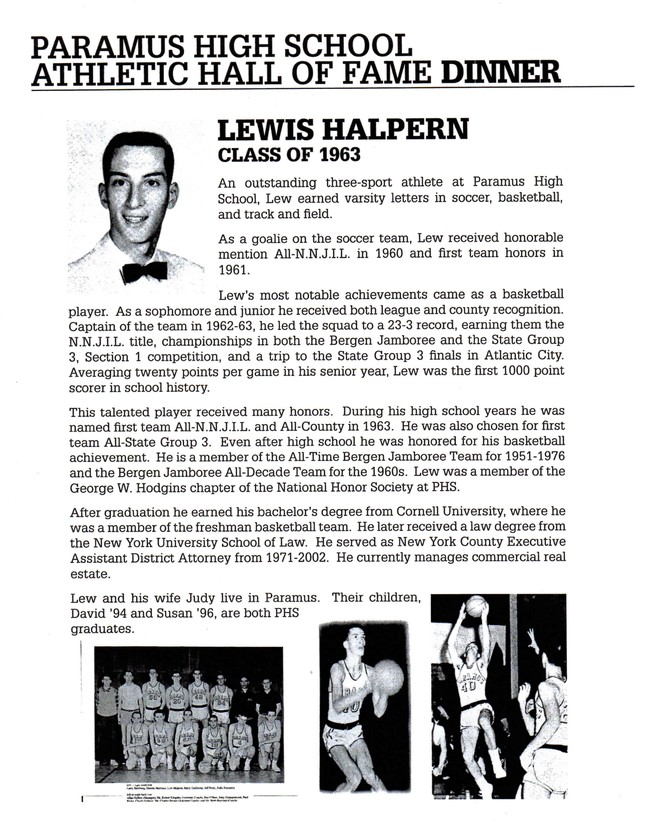 ---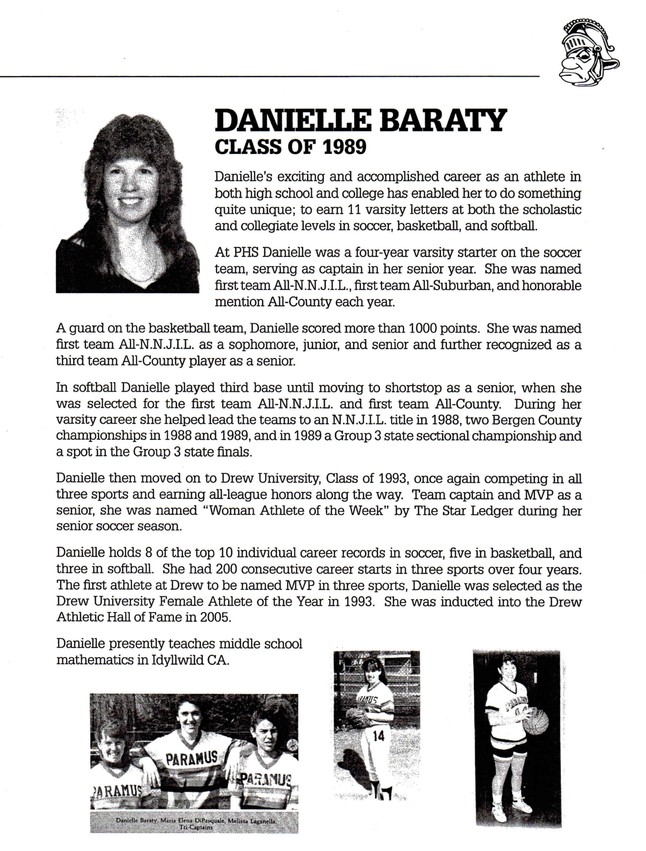 ---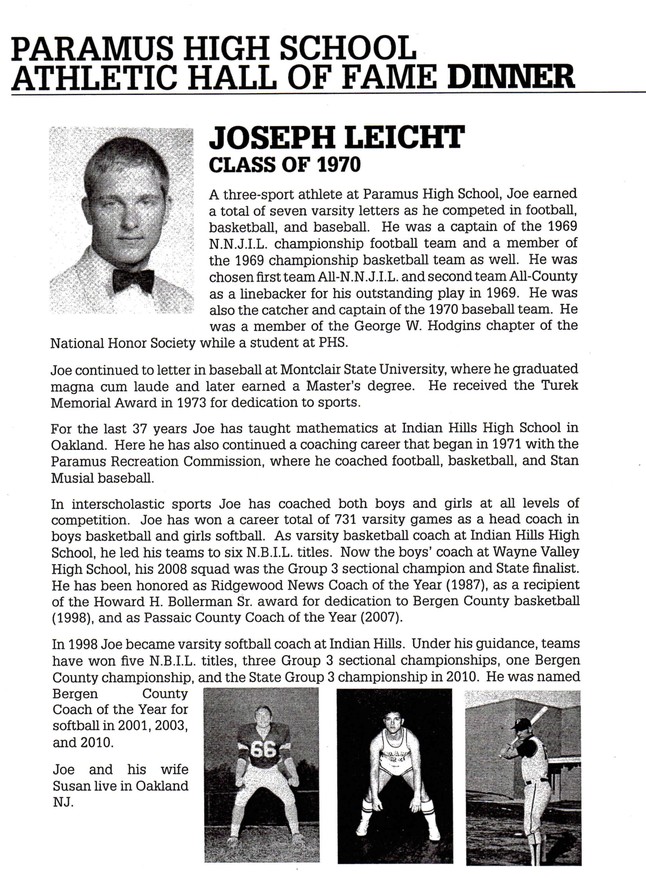 ---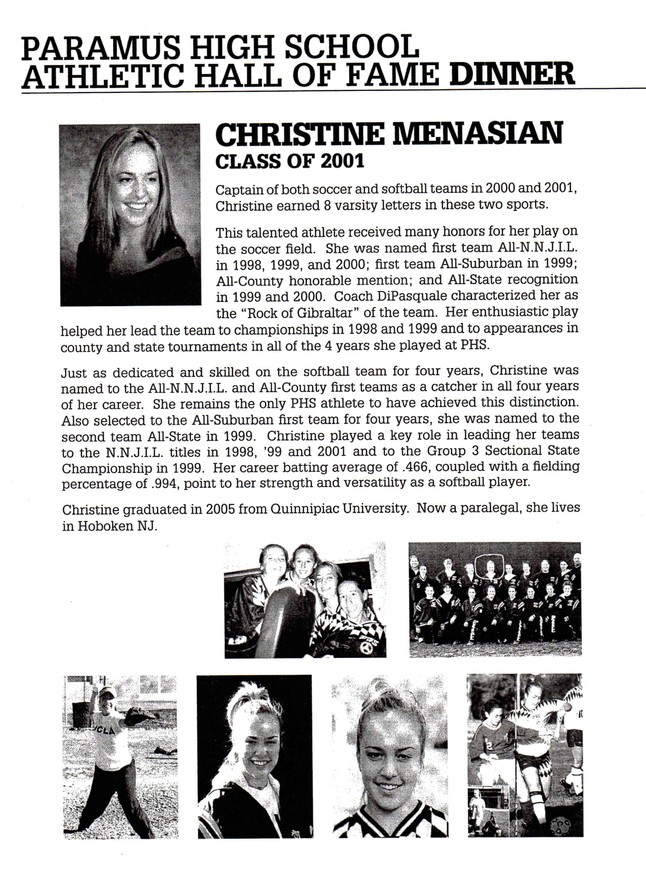 ---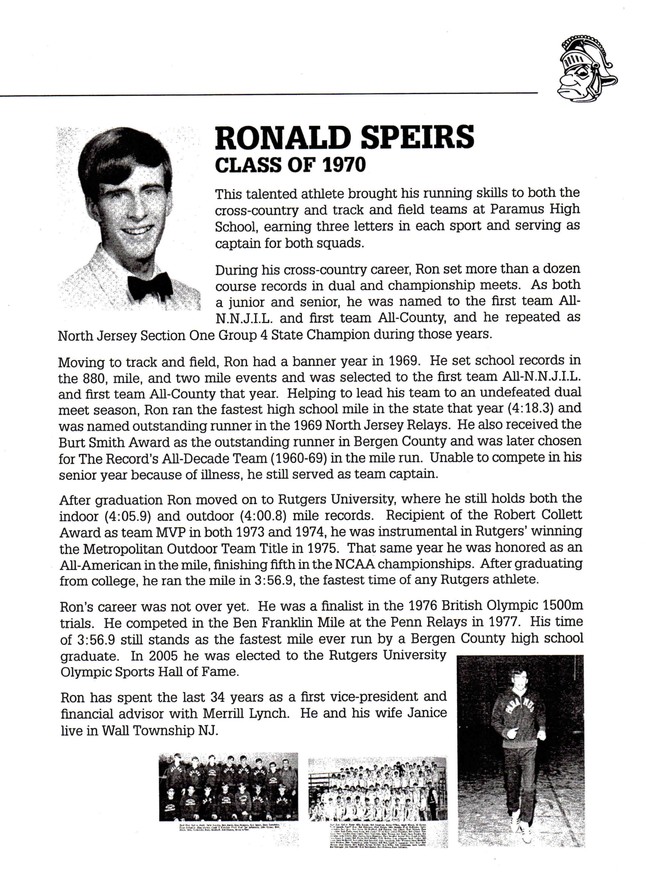 ---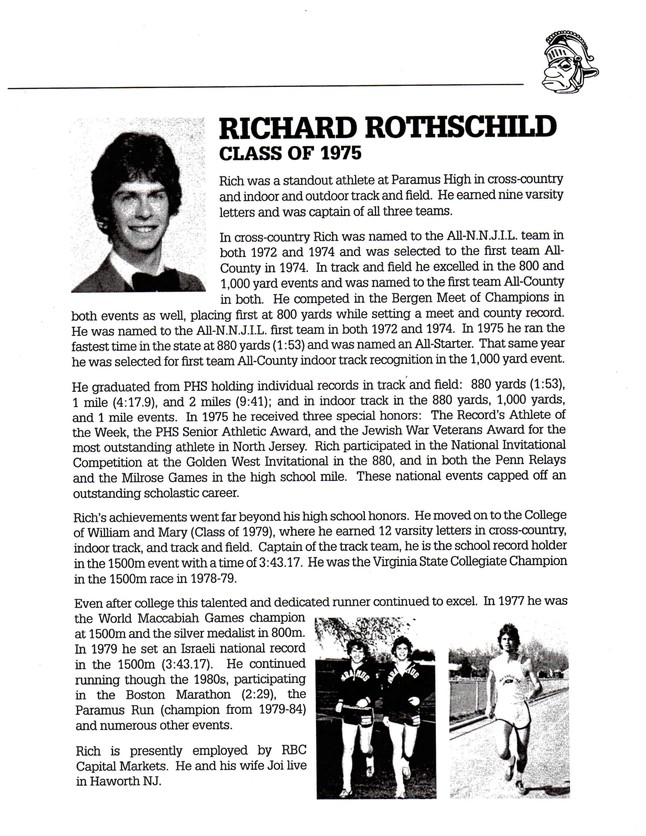 ---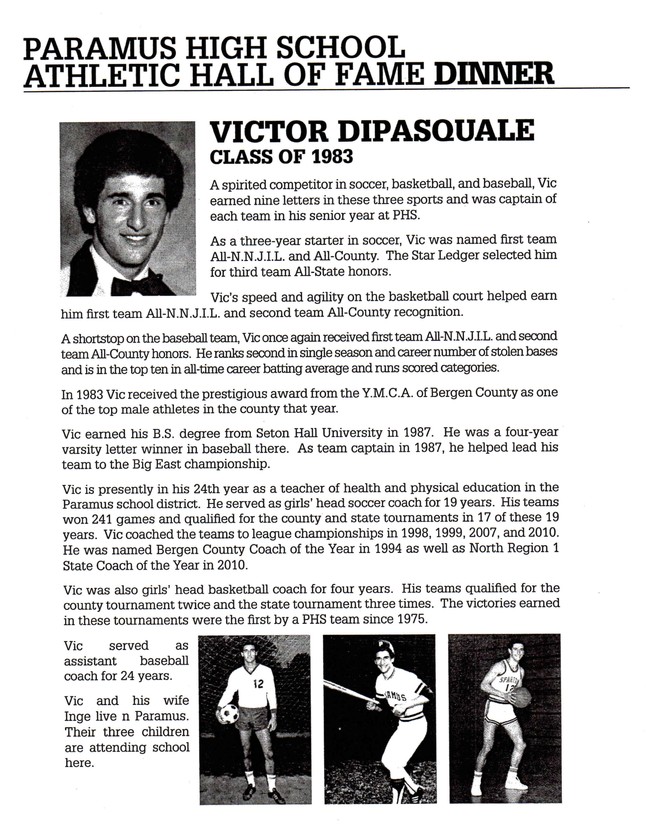 ---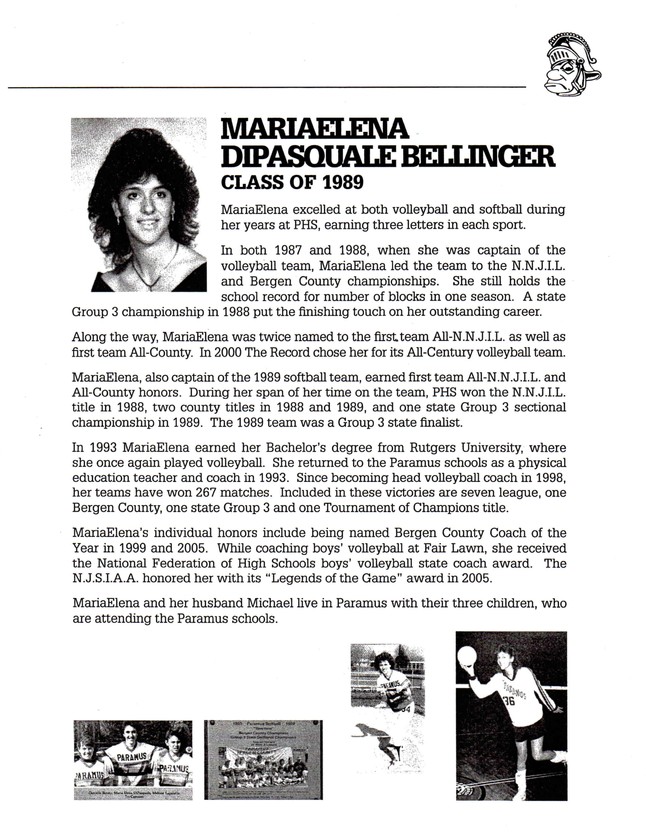 ---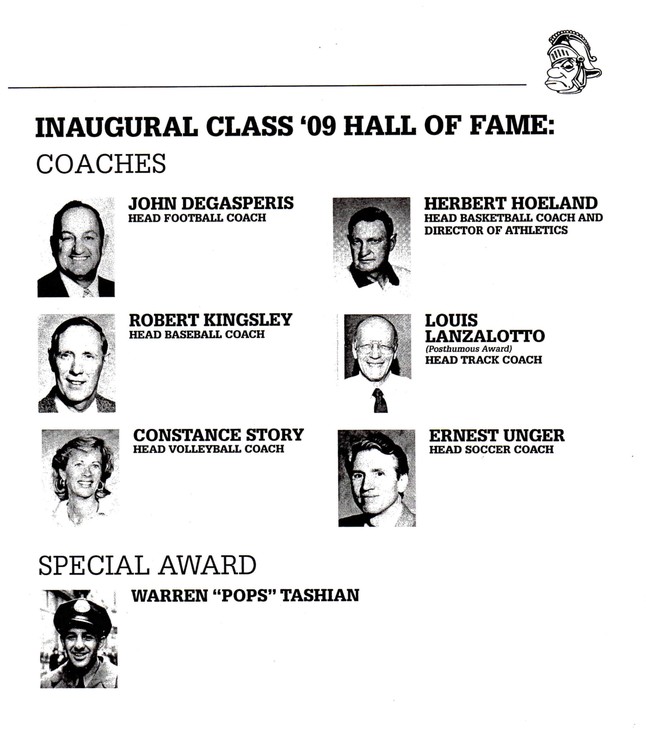 ---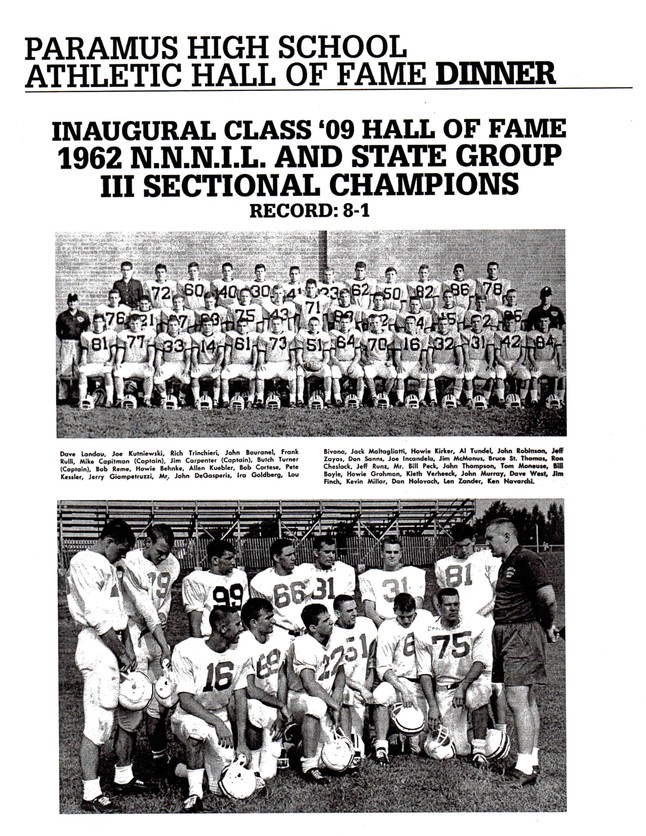 ---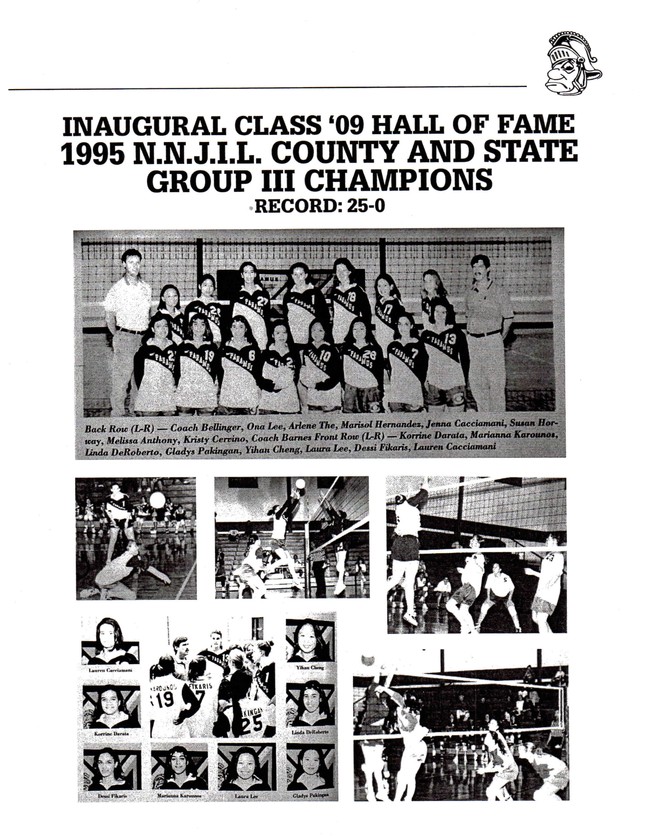 ---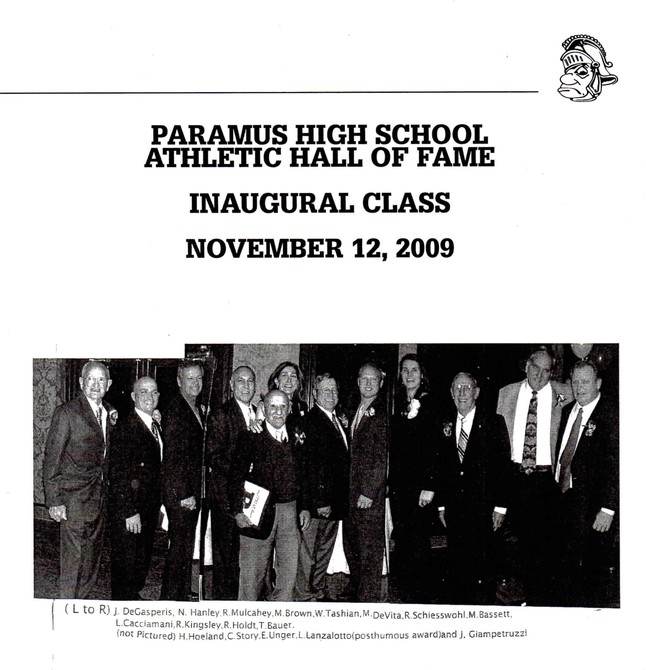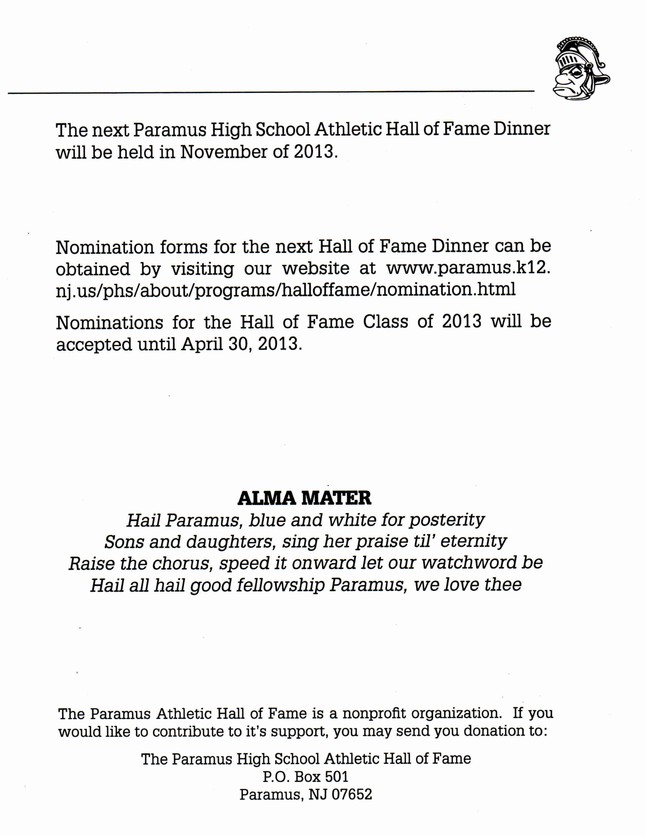 ---
2013 Program
---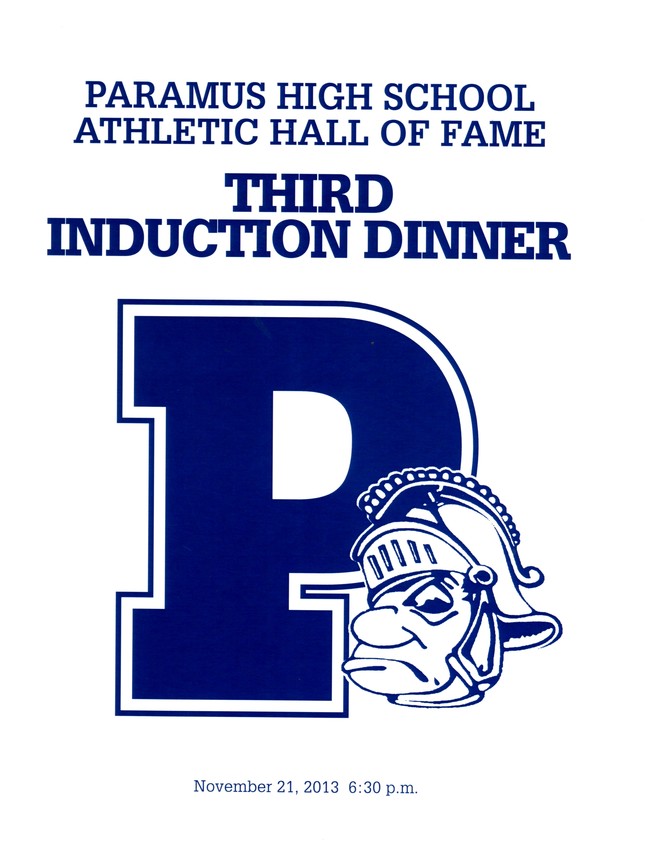 ---
2013 Inductees
---
Coach
Joe Cervino - Wrestling and Baseball
Team Awards
1964 Baseball (25-2) NNJIL, Bergen County, and Group IV State Champions
1965 Track (10-0) NNJIL, Bergen County, Group IV State Champions, and Eastern Regional Champions
1981 Volleyball (25-0) NNJIL, Bergen County, and Group III State Champions
Individual Awards
Jeff Perry ('64) Soccer - Baseball - Basketball (led the team to the State Final in Atlantic City.
Richard Cirner ('65) Football - Track (still owns 4 individual records)
John Favaro ('66) Football (1st team NNJIL - 1st Team All Metropolitan)
Glen Morschauser ('67)

Football (All NNJIL) - Track
Michelle Walker ('99) Basketball - Softball (three time 1st Team All NNJIL, All County, and All State Group III)
Scott Barchetto ('01)

Football - Wrestling (two time District Champion) - Baseball (All NNJIL)
Brittany Schillizzi ('07) Softball (four time All NNJIL, Four time All Suburban, and three time All County) - Hockey
---
To view the 2013 program, click below
2013 Athletic Hall of Fame Program
---
To view the 2019 program, click below
Click Here for the 2019 Athletic Hall of Fame Program